The Jets announced today that John Morton has been hired to be the team's offensive coordinator.
Morton began his NFL coaching career in Oakland and spent four seasons under Jon Gruden. He also worked three seasons with Sean Payton in New Orleans, five years with Jim Harbaugh in both college and the NFL, and he held an offensive coordinator post at USC under Pete Carroll.
Most recently with the Saints in 2015-16, Morton mentored a New Orleans WR group that featured Brandin Cooks, Michael Thomas and Willie Snead. Thomas, a rookie from Ohio State, led the Saints with 92 receptions and 9 receiving TDs last season while amassing 1,137 receiving yards. Cooks has averaged 81 receptions the past two seasons and 1,156 yards and he combined for 17 receiving TDs.  And in his first two pro years, Snead contributed 141 receptions, 1,879 yards receiving and 7 receiving TDs. Working on Sean Payton's staff, Morton helped New Orleans finish No. 1 in passing in both years.
His stint in New Orleans was Morton's second with the club. He was an offensive assistant/passing game coordinator for Payton in 2006 when the Saints advanced to the NFC Championship Game and finished No. 1 both in total offense and passing.
From 2011-14, Morton worked under Harbaugh in San Francisco as WR coach. During that span, the 49ers advanced to the NFC Championship Game three times and also appeared in Super Bowl XLVI. Heading up the WRs, Morton oversaw a unit that included Michael Crabtree and Anquan Boldin. Crabtree hauled in a career-high 1,105 yards receiving and he tied a personnel-best with 9 receiving TDs in 2012 while Boldin averaged 84 receptions, 1,121 receiving yards and 6 receiving TDs in 2013-14.
Morton, who had previously worked for Harbaugh as the University of San Diego's passing game/wide receivers coach in 2005, was a member of the USC coaching staff from 2007-11. Along with being the offensive coordinator in 2009, Morton held the roles of wide receivers coach and passing game coordinator.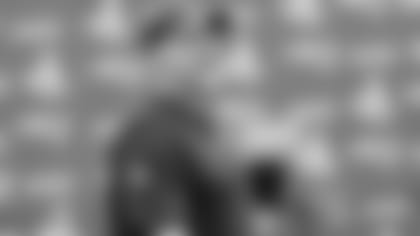 Originally a member of the Raiders personnel department in 2007, Morton coached the WRs from 1998-99 under Gruden. An offensive quality control coach in 2000, Morton led the Raiders wideouts in 2001 and then was promoted to senior offensive assistant/wide receivers coach in 2002.  In that '02 campaign, the Raiders finished No. 1 in both total offense and passing with HOFs Jerry Rice (92-1,211-7TD) and Tim Brown (81-930) continuing to excel on the outside. Morton also coached the Raiders TEs in 2004.
A receiver at Western Michigan in 1991-92, Morton left the school No. 10 and No. 8 on the school's all-time reception (78) and receiving yards (1,278) lists. In addition to earning All-Mid-American Conference honors as a senior, Morton received a bachelor's degree in general studies from WMU in 1997.
Morton signed with the Raiders as an undrafted free agent in 1993 and spent parts of two seasons on Oakland's practice squad. He also had brief stops with the Packers and the Jaguars being moving north to the play with the CFL's Toronto Argonauts 1995 and 1996. Morton's last playing experience came with the World League's Frankfurt Galaxy in the spring of 1997.
Along with the hiring of Morton, Jets head coach Todd Bowles has added DB coach Dennard Wilson and OLB coach Kevin Greene to his staff in recent weeks.