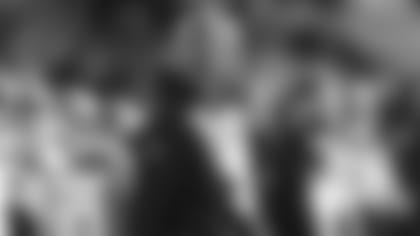 It looked ugly, and Jets head coach Robert Saleh knows it looked ugly. But his optimism, belief in his players, and his certainty that the team and the organization are on the right track has not -- and will not -- waver.
"I'll say the same thing I've been saying. Does it suck? Sure." Saleh said after the Jets' 30-9 loss to the New Orleans Saints (6-7) at MetLife Stadium on Sunday. "I feel no one in that locker room wants to lose football games.
"The path is crystal clear where this organization needs to go and the coaches, the players, from the top down, it's very, very clear we have to use the next four weeks to cement what we're thinking we have to do and attack everything. It's going to flip. This is the crappy part of the process, but it's not discouraging. We have a lot of young guys getting a lot of playing time and I can promise you they're learning from this."
The Jets are living in the present after yielding another 200+ yards rushing on defense and being limited to nine points on offense, but looking a week ahead to a game at AFC East opponent Miami, and then to three more. It's a balancing act for Saleh, his staff and the players.
"We've got a great group of young guys, first- and second-year players who have been getting unexpected opportunities," Saleh said. "They're getting opportunities and getting better, whether tangible or not, I can see it. I watch the tape. From the defense, we're getting some continuity, playing some good ball. I promise you we will be better next week. It's always a challenge when we're playing in a building that's had what? Had the last 10 years of guys trying to figure out how not to lose, not how to win games. We're sticking to our philosophy. We have four games coming up and we have a lot to look forward to."
With the loss, the Jets (3-10) were mathematically eliminated from the NFL playoffs, missing the postseason for the 11th straight season and losing 10 games for the fifth time in the past 10 seasons.
The Jets were in the game at halftime, trailing by 10-6, even though rookie QB Zach Wilson and the offense were playing without the team's top two receivers (Corey Davis and rookie Elijah Moore), three running backs (Michael Carter out with a high-ankle sprain, Tevin Coleman out with a concussion and Austin Walter who came down sick before the game), and has been without LT Mekhi Becton for all but one game this season.
That left only Ty Johnson and second-year man La'Mical Perine in the backfield, and primarily Jamison Crowder, Braxton Berrios, Keelan Cole and Denzel Mims as options for Wilson to throw to. Perine picked up 28 yards on 7 carries, but the usually sure-handed Johnson dropped three passes early when catches could have extended drives. Mims, who has seen limited playing time, was called for a pair of penalties and Cole was able to grab only 1 of 6 targets from Wilson.
Wilson, for his part, was less than sharp, hitting on 19-of-42 passes for 202 yards, no TDs or INTs, and a 59.8 QB rating. He planted a couple of passes -- one intended for TE Ryan Griffin (2 receptions, 28 yards), the other for WR Braxton Berrios (6 for 52) -- and failed to complete passes when the game was still in the balance.
Saleh said: "He [Wilson] had three of those underneath [passes] dropped. On the one in dirt to Griff then on the bubble screen to Berrios. He has to be better and it's something he'll be better at. I'm not concerned in the long-term view."
Mims, who also had a key penalty in last week's loss, was called for illegal use of the hands on a first down play from the Saints 24-yard line late in the first half. On the next play, the Jets were called for an illegal formation with Mims out of position as the Jets had to settle for a field goal to get to 10-6.
"The penalties were killer," Saleh said. "Mims is very capable. Obviously, he missed a couple of weeks, but has to hit ground running with urgency and discipline. He caught up to before [he had] COVID. We have faith in him. He's a great young man. He has the right attitude."
Injuries, penalties, Saleh knows that excuses are unacceptable.
"We're going to have a good month and a half to get better," he said. "No one in this league is not going to feel sorry for us. Every coach and player on the field is still expected to go out and perform. People pay good money to watch you perform. Getting them up to play is not an issue. That players shut down ... I don't believe that stuff. There's a lot of pride in this locker room."
See Best Images from the Game at MetLife Stadium