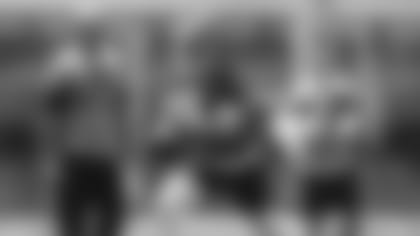 Jets head coach Robert Saleh has again and again expressed his utmost confidence in his rookie quarterback Zach Wilson. First-year throwers in the NFL often struggle, and though there are exceptions, Saleh said that one need only look north to the AFC East entry from Buffalo and that 4-1 team's fourth-year QB Josh Allen.
"It's not easy being a rookie quarterback, never has been, never will be," said Saleh on Monday after the Jets returned to the Atlantic Health Jets Training Center from Sunday's 27-20 loss to Atlanta in London. "Josh Allen the first five games of his rookie year, the numbers were the same as what our guy is going through. I know it can be frustrating sometimes, but it's going to start clicking. It's a rollercoaster ride and you have to take the good with the good, and the bad with the bad."
As a rookie (out of Wyoming) through his first five games, Allen numbers were: 2T D, 5 INTs, 4 fumbles, 18 sacks, 55.7% completions rate, 151.6 yards a game passing, 6.1 yards per completion, and a 62.5 QB rating. He did have 135 yards rushing and 3 TDs on the ground through five outings in 2018. For Wilson (out of BYU), through five games the numbers are: 4 TD, 9 INTs, 2 fumbles, 18 sacks. 57.3% completion rate, 223.4 YPG, 6.5 Y/A, and a 62.9 QB rating. The athletic Wilson has rushed for 22 yards during the Jets' 1-4 start.
Saleh's enduring message through five games: Sometimes young quarterbacks, like fine wine, need time to mature.
"We're always looking at ways to simplify things for him," Saleh said. "At the same time, we can't help with the speed of the game and the change of schemes. There are things he's seeing every week, things he has to get better at seeing."
The Jets will not play a game this week, but the players will be at their training center on Tuesday and Wednesday, before getting a four-day break through Sunday, then returning to prepare to play at New England on Oct. 24.
"We have to keep the ball rolling for conditioning," Saleh said. "If we're not going for a full week ... we say that seven days without being in the weight room makes one weak."
Again on Monday, as it was after Sunday's loss, the Jets coach was asked what is the remedy for the team's slow starts. Overall this season, the Jets (1-4) have been outscored by 30-0 in the first quarter (5 first downs in five games) and 75-13 in the first half.
"Again, we will look at all of it," he said. "Sometimes it's a collective thing. Sometimes a scripted call is not worth a damn. Sometimes the execution is not there. Sometimes there's a good play on the other side of the ball. We'll look at everything, and make it better coming out bye week, study the tape and what we're asking of the players and get them ready to roll to start the game."
Some quick hits from the coach:
• Safety Marcus Maye (ankle) and linebacker Jarrad Davis (ankle) could be available to face the Patriots. Maye has missed one game; Davis has been out since the preseason. Saleh said he is not "guaranteeing" their return against New England, though they are expected to practice next week.
• With Davis sidelined, Quincy Williams has emerged next to C.J. Mosley on defense. Saleh was asked if Davis would reclaim his starting spot when he's ready. "He hasn't played in a month and a half. He's a phenomenal player when healthy, a starter in this league, a first-round pick. When he's ready to go, he will get full-game reps." In Sunday's game, Williams made 8 tackles and forced a pair of fumbles.
• On rookie WR Elijah Moore, who was targeted twice against Atlanta, but did not have a reception (though he drew a pass interference call that set up a TD): "You got [Jamison] Crowder, a seasoned veteran, you got [Braxton] Berrios in the slot. We're trying to get our best players on the field. There were some calls designed for him, but coverage dictates where the ball goes. He drew a pass interference, a big play in the game. There were a couple of other big shots designed for him, but coverage dictated the ball going somewhere else. We are trying to create opportunities for him. This is a collective thing and there's always a player that wants more of the ball, but there's only one ball."