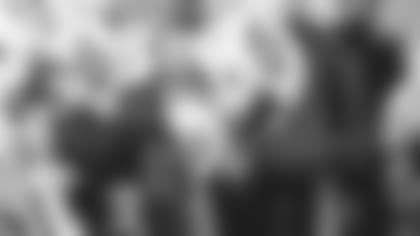 While Adam Gase likes his offensive pieces and thinks the Jets can be part of the playoff conversation come December, he also acknowledged the club has more work to do up front in terms of volume and competition.
The Green & White went the trade route to acquire Kelechi Osemele from the Raiders and he'll take over the LG position. Osemele will replace James Carpenter, who departed in free agency and signed with the Atlanta Falcons. The Jets also re-signed veterans Jonotthan Harrison and Brent Qvale and brought in former Vikings OL Tom Compton.
"I think we're at a good starting point right now. I think we absolutely need to add because we just don't have that many bodies," Gase said Tuesday at the NFL League Meetings. "We just need to add to that. You want to create competition. That's what you really want to do at the end of the day, you want to try and make it to where a couple of guys can feel like that young guy, or second- or third-year developmental player, kind of pressing at their heels."
Last year, Gase saw Osemele in Week 3 down in South Florida and the two-time Pro Bowler wearing silver and black gave the Dolphins fits.
"He's a fun guy to watch. He puts it all out there," Gase said of the 6'5", 333-pounder. "Playing him two years in a row, his physicality is something that you love watching as a play caller because you know you can run behind him because he's going to move his guy."
The Jets targeted tone setters in free agency and Osemele fits the bill.
"I think it's really going to be about him is it's a new system for him. I feel like he's a quick study though," Gase said. "He's really sharp and just getting his brain wrapped around the offense, techniques that Frank (Pollack) is going to be teaching, and then let him go out there and do his thing because he's all about attitude. He's going to set the tempo of that group and then be a big part of what we're doing."
So will Harrison, who started at center eight of the Jets' final nine games last season. The top two centers on the free agent market — Mitch Morse and Matt Paradis — received lucrative deals with the Buffalo Bills and the Carolina Panthers, respectively. Gase likes Harrison's athleticism and the 6'3", 311-pounder could remain in the pivot for the Green & White.
"I watched enough last year on Jonotthan that I know what he brings to the table, especially his intelligence and his ability to run that group, which I was really impressed with," Gase said. "The way that I look at it is, that center spot, it's not 1973 where we're playing every game as a 3-4 defense and he's going against a 364-pound nose. His job is going to be moving laterally a lot of the times and helping guards. We're not going to play a ton of 3-4 teams this year. He doesn't have Vince Wolfork going at him. He has a lot of the abilities that we need, in this offense against the teams that we're going to be playing this year."