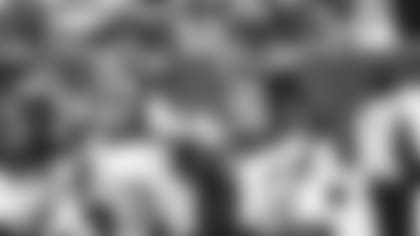 Defensive Backs on the Roster (GP/GS in 2021)
CB Michael Carter II (15/7), S Ashtyn Davis (13/10), CB Isaiah Dunn (12/1), CB Brandin Echols (14/14), CB Javelin Guidry (17/3), CB Bryce Hall (17/17), CB Justin Hardee (16/0), S Lamarcus Joyner (1/1), S Zane Lewis (0/0), S Marcus Maye (6/6), S Jovante Moffatt (0/0), S Kai Nacua (2/0), S Will Parks (1/1), DB Jason Pinnock (10/1), S Elijah Riley (5/5), CB Rachad Wildgoose (3/0)
Potential Free Agents
Unrestricted: Maye, Joyner, Parks Exclusive Rights: Guidry, Riley
Jets' DB Free Agency Picture
The Jets' cornerbacks room could look similar in 2022 to 2021 considering the only free agent is Javelin Guidry (exclusive rights FA). Starters Bryce Hall, Brandin Echols and Michael Carter II are all under contract, so even if GM Joe Douglas elects to beef up the room in free agency, the young pieces who received significant playing time in 2021 will remain intact.
Safety was a revolving door last season with the hope that the veteran tandem of Marcus Maye and Lamarcus Joyner would hold down the fort. Both players finished their seasons on injured reserve — Joyner tore his triceps tendon in the season opener at Carolina and Maye ruptured his Achilles tendon in Week 9 at Indianapolis. Joyner reportedly re-signed with the team Thursday and Maye has an expiring contract. Will Parks, who started two of the Jets' final three games in 2021, re-signed Thursday, too. Ashtyn Davis' 745 defensive snaps were the most among the group and he remains under contract, and Elijah Riley (No. 2 with 386) is an exclusive rights free agent as well.
Free Agent DB Candidate Capsules
CB J.C. Jackson (6-1, 198), New England
Jets HC Robert Saleh said the next step for the team's young defenders is to force and grab turnovers and no one has done that better than Jackson the past two seasons. He had 9 picks in 2020 and 8 in 2021 and an NFL-high 23 pass defenses last season, too. Considered the top CB on the market and one of the top free agents regardless of position, the Pro Bowl CB is primed to receive a top-tier contract after four seasons with the Patriots, who signed him as an undrafted free agent out of Maryland in 2018.
S Marcus Williams (6-1, 295), New Orleans
Williams was graded the NFL's seventh-best safety by Pro Football Focus in 2020 and 2021. A second-round pick out of Utah in 2017, he's had at least 2 interceptions and has played in at least 14 games in each of his first five seasons. His best year was in 2019 with a career-high 4 picks and 13 pass defenses, and his 74 tackles in 2021 was his career high. Why would the Saints let a good player test the market? There have been reports they're in a cap bind.
S Quandre Diggs (5-9, 197), Seattle
Diggs was named to the Pro Bowl in 2020 and 2021, but he couldn't participate in the game this season because he broke his fibula and dislocated his ankle in the season finale at Arizona. NFL Network's Ian Rapoport tweeted in January that Diggs had successful surgery and his recovery timeline is 4-to-5 months, which is something NFL teams will have to evaluate when considering adding Diggs to their roster. He was drafted as a CB in 2015 (sixth round pick out of Texas) and switched to safety in 2017. He has 19 interceptions (2 TDs), 37 pass defenses and 2 forced fumbles from 2017-21.
CB Donte Jackson (5-10, 180), Carolina
Jackson's best trait is his speed (4.32 40-yard dash in 2018). A second-round pick out of LSU, Jackson started 12 games in 2021 and had 61 tackles, 2 interceptions, 10 pass defenses and 1 forced fumble. In four seasons with the Panthers, he's had 12 interceptions (career-high 4 in 2018), 38 pass defenses and 2 forced fumbles.
S Jordan Whitehead (5-10, 198), Tampa Bay
Whitehead, the cousin of former Jets CB Darrelle Revis, played with fellow Jets S Jason Pinnock at Pitt in 2017. Whitehead doesn't have a ton of turnovers on his résumé (5 INT, 2 FF), but has a nose for bringing down the ballcarrier (career-low 69 tackles in 2019 in 14 games).
CB Rasul Douglas (6-2, 209), Green Bay
Douglas, who was drafted by Jets GM Joe Douglas in Philadelphia in 2017, is coming off his best season as a pro on his third team in five seasons. He played a career-low 12 games, but had a career-high 5 interceptions and 13 pass defenses with the Packers along with 57 tackles. He has good length and is one of a handful of corners who was either drafted by Douglas or played under Saleh. Others include Seahawks' Sidney Jones (drafted by Philly 2017), Seahawks' D.J. Reed (played under Saleh from 2018-19, 49ers CB K'Waun Williams (Saleh 2017-20) and 49ers CB Jason Verrett (Saleh 2019-20). The connections could mean nothing, but is worth pointing out.