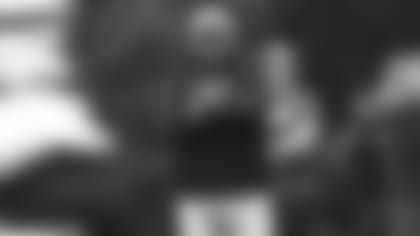 While the Jets pursuit of a veteran quarterback has taken centerstage this offseason, GM Joe Douglas reportedly is set to finalize several moves at the onset of the league's new year.
Adding Strength at Safety
With S Lamarcus Joyner about to become a free agent, the Jets reportedly will acquire Chuck Clark, 27, in a trade with Baltimore in exchange for a seventh-round draft pick in 2024.
Clark (6-0, 205), an important player in the Ravens' No. 3 scoring defense in 2021, played in all 17 this past season. He had a career-high 101 tackles (second on the team), 4 pass defenses, 1 forced fumble and 1 fumble recovery. Clark was drafted in the sixth round in 2017 out of Virginia Tech and is likely to join Jordan Whitehead, D.J. Reed and Sauce Gardner in the Jets' starting defensive backfield.
Two Who Didn't Get Away
While dealing with a long list of their own unrestricted free agents, the Jets and Douglas were reportedly successful in re-signing linebacker Quincy Williams and place kicker Greg Zuerlein. They each had productive 2022 seasons.
HC Robert Saleh recently said that he hoped the team would be able to "run it back" with basically the same players populating the defense. Williams, the older brother of DL Quinnen Williams, was considered to be a key piece. ESPN reported that Williams (5-11, 240) signed for three years and $18 million (with $9 million guaranteed).
Williams, 26, joined the Jets as a waiver claim from Jacksonville just before the start of the 2021 season. He has emerged as a strong and spirited complement to the veteran C.J. Mosley at linebacker. The other player in the three-man linebacking corps, Kwon Alexander, is a free agent.
In his two seasons in Green & White, Williams started 28 games, had 147 solo tackles, 5 sacks and 21 tackles for loss. He played 79% of the defensive snaps last season, and after missing two games with a high-ankle sprain, Williams returned to notch his season-high 14 tackles at Green Bay.
Zuerlein, 35, is the rare athlete with two nicknames: Greg the Leg and Legatron. By any name, he's been the Jets' most consistent kicker in some time. According to NFL Network, Zuerlein will sign a one-year deal that could net him up to $3.5 million.
The Jets signed Zuerlein last March and then saw him connect on 81.1% of his field-goal attempts last season (30 of 37) and 96.6% of his extra-point attempts (28 of 29). Indoors at Minnesota in Week 13, Zuerlein converted a franchise-record 60-yarder, which came after he tied the previous franchise mark of 57 yards in Week 2 and Week 12.
Clearing Cap Space Ahead of Free Agency
With needs on the offensive line and elsewhere, Douglas and the Jets were reportedly able to clear more than $20 million in cap space by restructuring several contracts according to Field Yates of ESPN (TEs Tyler Conklin and C.J. Uzomah; CB D.J. Reed; OL Laken Tomlinson; and DL John Franklin-Myers) and releasing WR/KR Braxton Berrios.
Conklin, Uzomah, Reed and Tomlinson were all signed in free agency by the Jets last year. JFM's contract was reworked and extended in the middle of the 2021 season. Parts of JFM's and Uzomah's contracts were converted into bonuses.
The release of Berrios, who was signed to a new deal after the 2021 season, cleared $5 million in cap space.
Finally, NFL's Tom Pelissero tweeted the Jets have decided to not tender an offer to restricted free agent WR Jeff Smith, who has been with the team for four years, during which he made 34 receptions while carving out a role on special teams.
Two FAs Departure
Two of the Jets' UFAs, QB Mike White and DL Nathan Shepherd, reportedly will sign with new teams and are headed elsewhere.
White, who is from Pembroke Farms, FL, signed a two-year deal, worth up to $16 million with Miami, according to ESPN's Adam Schefter. That will keep White in the AFC East, most likely as the backup to Tua Tagovailoa. White, 27, was a fifth-round pick by Dallas in 2018. He signed with the Jets and spent most of his time on the practice squad until the 2021 season.
In the past two seasons, White completed 62.2% of his passes for 2,145 yards, 8 TDs and 12 interceptions. This past season White was elevated to the starter when Saleh benched Zach Wilson after a loss at New England. White had a 1-3 record as a starter, but was hampered late in the season after he sustained broken ribs at Buffalo, which were aggravated in a game at Seattle.
Shepherd, who played for the Jets on a one-year deal in 2022, has signed with New Orleans, according to ESPN. Terms of his deal were not disclosed.
Shepherd, 29, had a strong 2022 season, logging 33 tackles, 17 QB pressures and 1.5 sacks playing in all 17 games (3 starts) as the Jets regularly rotated players on the defensive line.