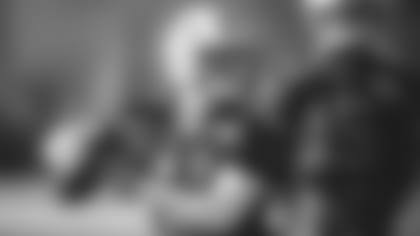 Is the wait over? After being a full participant at practice this week, rookie quarterback Sam Darnold may be in line to start for the first time in more than a month when the Jets and Bills battle in Buffalo Sunday. Head coach Todd Bowles will keep his decision close to the vest heading into the weekend.
"We'll decide that on Sunday between him and Josh (McCown)," Bowles said. "They both had good weeks."
With a game-time temperature expected to be 29 degrees at kickoff, Darnold set the tone this week by coming out to Wednesday's practice sleeveless.
"True competitors just understand that the circumstances are going to be uncomfortable and they turn it up a notch usually," said offensive coordinator Jeremy Bates. "You see a lot of big time playmakers make plays when it's windy or rainy or snowing just because they are competitors."
Darnold, whose three-game absence from the lineup began in Week 10 when the Jets dropped a 41-10 decision to the Bills at MetLife Stadium, could be challenged by a Buffalo defense ranked No. 2 overall (294.2 Yds/G) and No. 1 in pass defense (187.2 Yds/G).
"He's a good quarterback," said Bills head coach Sean McDermott of the rookie. "Certainly the ability's there. As far as what's unique about it, I just think the unknown. We haven't really seen him yet. That's probably the unique part about it."
Friendly Foes
When Darnold and Bills quarterback Josh Allen were drafted No. 3 and No. 7 respectively in April, the young signal callers talked about the idea of facing each other twice annually for years to come. They developed an affinity for each other during the pre-draft process when working with QB guru Jordan Palmer. Neither passer was active for the team's first meeting as Darnold sat with the strained foot and Allen missed the final contest of a four-game inactive run with an elbow ailment.
"I haven't really talked to him much honestly through the whole season. Just when he was dealing with the elbow and I was out for that game too, so me and him got to connect a little bit before the Buffalo game that we had here at MetLife," Darnold said this week. "We got to chat a little bit, but we're not facetiming, not texting or anything like that."
The Bills won that first contest decisively, but Allen has quickly left the past in the rearview mirror.
"We're not worried about last game in regards to when we play the Jets," Allen said. "It's a completely different ballgame. We're trying to prepare as well as we can and we're going in there ready for a really good game."
Tigers on the Prowl
It is hard to fathom that safety Jamal Adams, who was selected No. 6 overall by the Jets in the 2017 Draft, and cornerback Tre'Davious White, taken 21 picks later by the Bills, roamed the same defensive backfield in college at LSU.
The 5'11", 192-pound White is a sound technician and opposition offenses are doing their best to stay away from the emerging shutdown corner. Adams has surged in 2018, leading all NFL safeties in pass defenses (12), tying for first in tackles for loss (8) and forced fumbles (3) and ranking in the top five in tackles (78), sacks (2.5) and QB hits (5) according to Radar360.
"He plays with relentless effort. Each and every play, he's going to come with it," White said of Adams on an installment of One Bills Live. "No matter the circumstance or the game, he's going to give his best — he's going to give you his all. I played with him for three years… That's one of the guys I pretty much talk to all the time, so I always wish him the best and we wish each other the best."
In a lot of cases, you would see return men slow down once they hit 30. But Andre Roberts, a nine-year veteran who will turn 31 in January, is having a special season. He leads the NFL in both kick return yards (665) and punt return average (15.3), and his six returns of 40+ yards also top all returners.
"He's a hell of a player. I don't know too many returners in this league that are dual returners that have done what he's done this year," said special teams coordinator Brant Boyer. "You have some guys that are slightly better on kick return or whatever. But if you look at the dual stats and what he's done this year, I don't think there's a better returner in the game."
Best Images from Friday's Indoor Practice During Week 14