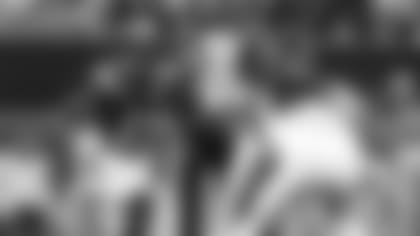 Long before Aaron Rodgers was injured four plays into the season, it would have been fair to have called the Jets' first six games a gauntlet before to the team's Week 7 bye. After experiencing as much adversity as any club through the season's first five weeks, the Jets have an opportunity to reach .500 on Sunday if they can spring an upset of the Eagles (5-0) at MetLife Stadium.
NFC Champs Walking In
"What's cool is the NFC champs are walking into our building, and it's an opportunity for us to get after," said HC Robert Saleh. "We've played some good football teams. We took Buffalo and Kansas City down to the wire. We got another great one coming in. So, hopefully it's a fun game for everybody, and hopefully we're on the right side of it."
After Rodgers tore his Achilles tendon, the Jets got up off the mat in Week 1 and outlasted the Bills in overtime. Then in Week 4, the Jets charged back from 17 points down against the Chiefs only to lose by a field goal in a game they were the better team for three quarters. Now, searching for consecutive wins for the first time this season following a 31-21 defeat of the Broncos, the Jets step up in class once again against one of the league's most complete outfits. And while history won't factor into the outcome Sunday, the Eagles are 12-0 vs. the Jets in regular-season action.
"Before right now, I could tell you I had no idea, so I can tell you I didn't really care about that," said RB Breece Hall this week when told of the Jets-Eagles series. "Every game you are looking at coming out and winning, so just because they are undefeated or whatever doesn't really play a factor in motivating us to win. We want to go out and win every week regardless of who we are playing."
Zach Wilson's Growth
While the Eagles boast a stout defensive front and are the NFL's stingiest team against the run, they haven't faced a back like Hall. The second-year RB leads the NFL at 7.2 yards/carry and he owns 2 of the 3 longest runs in the league this season. The Jets are 4-0 when Hall gets 15+ carries in a game. And there are other encouraging signs on offense as well -- Zach Wilson, forced into the starting role early in Week 1, has settled in with the offensive controls, becoming the first Jets QB since 2017 to hit on 70% of his passes in consecutive weeks.
"I think that there's unbelievable signs of him growing, both in starting with the protection, the operation of the cadence and the motions like we talked about with Denver," said OC Nathaniel Hackett of Wilson. "Even the reads and progressions, it's one of those things just to feel more confident in the system."
Unfortunately, just when the offensive line was starting to find some continuity, the Jets lost another one of their key offensive players last Sunday when Alijah Vera-Tucker sustained a torn Achilles tendon. The Jets will start their third different player at RT (Mekhi Becton, Games 1-2; AVT, Games 3-5), this season against an Eagles club that has racked up 15 sacks and could be getting some reinforcements back in the lineup. Max Mitchell, who took AVT's spot in Denver, could be in line for this sixth professional start.
"It is frustrating, but it's also an opportunity for someone else," Saleh said of Vera-Tucker's injury. "I mean, in a perfect world it's like Madden, you turn the injury button off, no one gets hurt, no one gets tired, and you just can go play football, but injuries happen."
Added Hackett: "To replace him, we're working through that right now, just like we did a couple weeks ago, and we want to try to get the best combination of guys that can work well together."
Eliminate Explosives
The Jets tallied a season-high 31 points against the Broncos but 9 of those came from the defense. Philadelphia is fifth in scoring (28.2 pts/g) and they're led by a dual threat at QB in Jalen Hurts, who is 22-1 in his last 23 regular season starts. The Eagles have great balance, ranking second in rushing (164 yds/g) and 10th in passing (240.4 yds/g). When D'Andre Swift (434 rush yards) or Hurts (206 rush yards, 4 TDs) aren't running behind perhaps the best offensive line in football, Hurts, who leads the NFL with 388 yards on deep passing, likes to go downfield to his targets, including A.J. Brown, DeVonta Smith and Dallas Goedert.
"That's kind of the foundation of our defense is to eliminate the explosives," Saleh said. "Teams are going to hit it. feel like we've been a top unit in explosives for as long as I can remember, but for some reason it feels like early in the year, always it's just one or two leak out. … So, if we can eliminate those 100%, we'll hit our stride defensively."
Without Rodgers, the Jets find themselves in familiar territory in the role of underdog. The Jets have not been favored in any game this season and they'll enter this contest around a 7-point 'dog' to Philly. Both these clubs have come a long way since the summer of 2001 when the Jets and-Eagles had joint practices in Florham Park when Nick Siriani and Robert Saleh were first-year head coaches. Wilson was a rookie who hadn't taken an NFL snap while many wondered if Hurts would hold onto the starting job beyond 2021. But Hurts took advantage of his opportunity and became a star and Wilson, in relief of Rodgers, is continuing to progress.
Narratives can change quickly in the NFL, but the good teams and programs are consistent. With a win, the Jets would fly into the bye with a second consecutive win and a huge shot of momentum at 3-3. The early gauntlet is about to end, and it will conclude against a chatty Eagles team that has earned the right to talk
'Very challenging, these guys are obviously really good," Wilson said. "A lot of players all the way around, obviously the big guys up front too. I think I remember playing them my rookie year and they talk a lot. As a quarterback, that's exciting because those guys are getting after it."