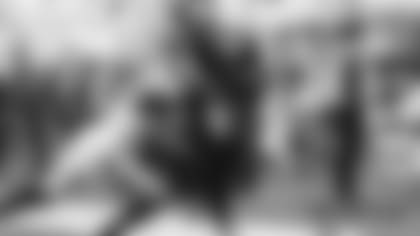 Although the Jets will be home for four of their next five games, there is a formula that head coach Robert Saleh lives by regardless of venue.
"You pack your defense, you pack your run game and you pack your special teams," Saleh said this week. "You take those with you everywhere."
After a strong performance in those three areas in Houston to secure their first road victory of the season, the challenge for the Jets will be more difficult in Week 13 at MetLife Stadium as the Green & White look to secure a pair of firsts — their first regular-season win against the Eagles and their first two-game win streak this season.
In their 21-14 triumph over the Texans (2-9), the Jets (3-8) allowed 202 yards, the lowest by an opponent since 2018, they totaled a season-high 157 yards on the ground and they also got a partially blocked punt from rookie TE Kenny Yeboah. On Sunday, the Green & White will meet a bruising Eagles club (5-7) capable of dominant play on both sides of the line of scrimmage.
"You pop on the tape and it's like every year with Philly — they're good," Jets OC Mike LaFleur said.
On multiple occasions, Jets GM Joe Douglas, who was the Eagles vice president of football operations from 2016-19, has said that it all starts up front with the offensive and defensive lines, and those units will lead the rest of the team. Sunday will be a great challenge at the point of attack as the Jets offensive line matches up with one of the NFL's top interior tandems of Fletcher Cox and Javon Hargrave with Derek Barnett and Josh Sweat bringing heat off the edge.
"The D-line is one of the best in football," Saleh said. "Darius Slay on the outside is a heck of a corner. They've got a really cool group and they don't allow a lot of big plays. They're aggressive up front and they're going to be a tremendous challenge for our entire offense."
Rookie QB Zach Wilson, who threw for 145 yards and registered his first career rush TD in his first game in more than a month, was the victorious signal-caller in Houston. Saleh saw things to build off and learn from as Wilson approaches a date with an Eagles defense that limited the Giants to just 264 net yards while holding them to 25%, 3-of-12 on third down. Conversely, Wilson and the Jets converted 15% of their third-down attempts last Sunday.
"That's going to be the battling cry or the motto for the rest of the year with him in terms of just footwork and tempo and eye placement," Saleh said. "When his eyes are right and his feet are on the ground and he goes through his progressions and he gets to work, he gets the ball where it needs to go. It's very impressive, it's as good as anyone."
Moments like a fourth-down rope to Keelan Cole in the fourth quarter in Houston that helped the Jets take precious time off the clock and further advance into scoring territory.
"Getting used to those drops and understanding how to play quarterback in a phone booth as we like to call it is going to be kind of the trigger of what we're looking forward to see him see him in his development," Saleh said. "And that play is a perfect example. He got to the top of his drop, progressed through the concept and let it rip to Keelan on a critical a fourth-and-5 where there was no panic. There was no indecision. It was decisive and kept the chains moving."
The Eagles keep the chains moving on the ground, leading the NFL in rush yards per game (157.9) and rush TDs (18). Philadelphia, whose No. 1 rusher is QB Jalen Hurts with 695 rush yards and 8 rush TDs, has rushed for 200+ yards in three straight games and is hoping to become the first Philly outfit to rush for 200+ yards in four consecutive games since 1949.
"Any time you add the quarterback element into it, you're playing 11-on-11 football, so you're losing the extra hat in the box because he's not just handing the ball off," Saleh said of Hurts. "He's always a threat to run, so it is unique and they do as good a job as anyone scheming up runs to not only utilize him as a piece but to also use him as a decoy so they can buy the extra gap."
Added DT Sheldon Rankins: "When you look at the way they run the ball, a lot of double teams inside. They're hanging on those doubles, so guys are going to have to be stout inside, guys are going to have to be focusing strain on those blocks because if you lose focus for a second, you're getting driven off the ball three, four, five yards. Those are seams that we can't allow and when they're finding those seams, they're home runs."
Schematically, the Eagles run a system similar to the one the Colts employ and the Horseshoes ran for 260 yards against the Jets last month. The players were reminded of that this week by the coaching staff.
"First meeting that we had, it was, 'Fellas, this coaching family comes from Indianapolis.' They're sharing game plan ideas, they're sharing what was successful, and then ultimately they're going to go back and watch the tape and see what worked," said defensive coordinator Jeff Ulbrich.
For the Jets to reach another level against the Eagles, they will need to excel up front. Veteran RT Morgan Moses is no stranger to the Birds, having tussled with the Eagles twice annually from 2015-20.
"I've been able to play against Fletcher Cox and those guys for seven years, so I know what their makeup is about and it's going to be a challenge for us," he said. "It's going to be a challenge for us to go out there and win the line of scrimmage. If we do that, I think we take care of business."
See the Top Practice Images Leading Up to the Sunday's Game at MetLife Stadium Against the Eagles