The time is finally upon us as the NFL's first-ever May draft will commence Thursday night.  We will celebrate the league's annual selection meeting with a pair of Jets Talk LIVE (JTL) installments on Thursday evening and Friday morning.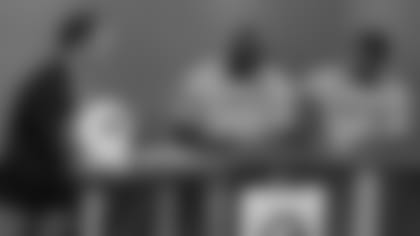 Our draft preview, which will air live from the MetLife Stadium locker room, will kick off at 6:00 p.m.  There will be no better way for Jets Nation to get ready for the opening round as we are scheduled to be joined on set by two members of the '13 class in QB Geno Smith and CB Dee Milliner in addition to Voice of the Jets Bob Wischusen (@espnbob) and our resident draft expert Rich Cirminiello (@RichCirminiello).  The phone lines will be open for you at 855-909-5493 and Jets GM John Idzik, ESPN national correspondent Sal Paolantonio and Bleacher Report lead NFL Draft analyst Matt Miller (@nfldraftscout) will call-in with their final pre-draft thoughts.
Then on Friday, we will come right back live at 11:00 a.m. for a Day 1 recap and a Day 2 look ahead.  We will not only take your questions at 855-909-5493, but we will also get the analysis of NFL Network's Charles Davis and Miller, who is pulling double duty for us.  After shuffling the Big Board, how should the Jets approach Rounds 2-7?
Before the draft and throughout the weekend, I will provide analysis and exchange thoughts with the Green & White faithful via @eallenjets.  Lastly, I look forward to seeing many of you here at the Atlantic Heath Jets Training Center on Saturday for our Jets Family Fun Day that will include some player Q&As.