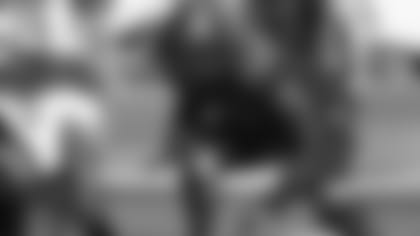 When the Jets drafted OT Mekhi Becton with the No. 11 overall pick in the 2020 NFL Draft, they knew they were getting a mammoth athletic player who is versatile along the line. The team also knew that two days later in the fourth round, after drafting offensive linemen Cameron Clark, it was adding someone with a lot of potential who could become a valuable contributor as well.
But what GM Joe Douglas and company may not have known is that the two rookie players already had established a bond off the field.
"We've been really close," Clark said of his relationship with Becton. "There were like four or five of us that were really close when we were training and me and Mekhi were two of those guys. We were always joking and playing around together. We worked hard. We knew when to work and we knew when to play, but we always got our work in. Both of us worked extremely hard and both of us care about football a lot. So that was one thing that we just hit it off, off the bat."
Becton and Clark had not been familiar with each other during their collegiate careers, with the 6'7", 364-pound first-rounder attending Louisville while the 6'4", 308-pound fourth-rounder went to UNC Charlotte. But prior to the start of the draft, the duo trained together in Texas to prepare for the NFL offseason, working out with renowned offensive line coach Duane "Duke" Manyweather. Clark and Becton's bond developed quickly and Mount Becton was one of the first individuals to express congratulations to Clark after being drafted.
Clark attributes much of their relationship to personality similarities.
"I like to tell jokes and Mekhi laughs at everything I say," Clark said. "That definitely helped our relationship. Mekhi, he's a fun, happy-go-lucky person. It's crazy when you look at his film and the way he is on the field. He's the opposite off the field. He's a big kid off the field."
Now with training camp quickly approaching, the rookie pair are still working together but in very different circumstances. Becton remains in Dallas practicing his craft with Manyweather while Clark is in Charlotte working solo. They conducted team video calls this spring where most of the Jets players were able to communicate with teammates and coaches.
"It's just crazy seeing someone and actually knowing someone in the meetings," Clark said. "I feel like that's really going to pay dividends once we get up to New York and we can help each other out and all those types of things."