Faced with one of his final Mock Drafts of the spring, Bleacher Report's Matt Miller predicted a move back for the Green & White. Miller constructed a Jets and Browns trade in the first round of the Draft as the Green & White would move back from No. 6 to No. 12.
"I think there's just enough smoke out there about Cleveland trying to move up to get Mitch Trubisky," Miller said. "And I think the Jets have done a very admirable job of saying they're interested in these quarterbacks. I don't think it happens Thursday night. I think they move back, get some extra picks from the Browns, who have so many. You can get pick No. 52, probably a fourth-round pick too and jump back six spots and still get a very quality player."
Jets general manager Mike Maccagnan has expressed his desire to stockpile picks since the Combine. During his pre-draft press conference Monday, Maccagnan said he was recently on the phone with another team's GM who has multiple selections and had what he described as "pick envy."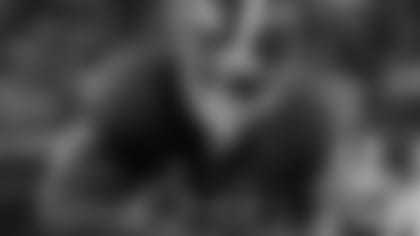 And after 11 picks, Miller had the Jets selecting Alabama TE O.J. Howard with the No. 12 pick in the 2017 NFL Draft.
"I see a team that needs a playmaker," Miller said. "They need a pass catcher that when he comes out of the huddle, defenses worry about. That's O.J. Howard. He's a true three-down guy and a great run blocker. He's the best run blocking tight end in the class, people don't realize that. He's also a freak athlete. Guys like this do not come around very often. He has a Travis Kelce type ceiling as a player and I think right away he's a contender as a Pro Bowler because of what he does in the run game, as a pass catcher and yards after the catch. He's a huge threat in the red zone and with the quarterback situation in New York, O.J. Howard is a guy you want them to grow up with."
The 6'6", 251-pounder checks all the boxes and passed every test from the Senior Bowl to the Combine to his Pro Day. He's rated a top-ten talent that has been predicted to be drafted as high as No. 4 to the Jacksonville Jaguars. In four collegiate seasons, Howard racked up 114 receptions, 1,726 yards and seven touchdowns.
"With that offense at Alabama the last two years, he was not schemed for as you would in the NFL with a great tight end like Rob Gronkowski or Travis Kelce. So you see O.J. Howard's numbers and they're not great, but what's crazy is they actually got better this year," Miller said. "If you watch games throughout the playoffs the last two years when Alabama really relied on him as a pass catcher against Clemson and Ohio State, he had some huge games that gave you a flash of what he is. Then you look at the measurables, you talk to the coaches and understand the character and wiring. He's as close to a 'can't miss prospect' you're going to find in this year's draft."