John Idzik has a plan and he is going to stick to it.  And a very important component of the Idzik strategy is a talent–based approach to the draft.
Just a year ago, the Jets entered selection weekend with needs at quarterback, wide receiver, tight end and guard.  Faltering during a 6-10 campaign in 2012, the Jets offense fizzled and finished 28th in scoring (17.6 ppg) and 30th overall (299.2 ypg).
A pre-draft trade of Darrelle Revis to the Tampa Bay Buccaneers gave the Green & White two of the top 13 overall selections in the draft.  The thinking outside the building was the Jets would use at least one of those picks to address an offensive need, but Idzik did not back himself into a corner in Round 1.
After taking Alabama CB Dee Milliner with the No. 9 overall selection, many fans clamored for a TE, a WR or even a QB with the 13th pick acquired by the Bucs.  But instead of reaching, the Jets stuck to their board and grabbed a wildly talented DT from Missouri in Sheldon Richardson.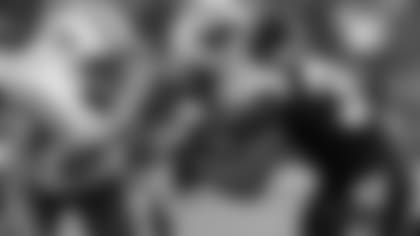 "I think we had a pretty good defensive line going into last year's draft, but we felt obviously that Sheldon was the correct player to pick talent-wise and it worked out for us," Idzik said this week.
Richardson was named Defensive Rookie of the Year after amassing 101 tackles, 3.5 sacks, 1 FF and 1 PD.  The 6'2", 294-pounder also rushed for a pair of scores, tying DL William "The Refrigerator" Perry for most rush TDs in a career by a defensive linemen.  After adding two defensive pieces in the opening round, the Jets sat tight and were pleasantly surprised that Geno Smith —considered by many the top signal caller in the draft — fell to them in the second round with the No. 39 overall selection.
Sticking to his need-based approach in free agency, Idizk already has improved the firepower on offense with the signings of Eric Decker, Chris Johnson and Michael Vick.  But the Jets could use another quality pass catcher on the outside and a tight end to help Geno Smith make a jump in Year 2.  And even though the Jets were happy to sign productive DB Dimitri Patterson, they could use another corner and that could happen early.  These are considered deep wide receiver and cornerback classes, but the TE position is filled with questions after the top five prospects.
Posing a hypothetical this week, we asked Idzik about the decision-making process if the Jets had a player ranked slightly higher on their big board at a position of strength (D-Line) than a perceived need like wide receiver or cornerback.
"It's weighted in, but we're going to maintain discipline," he said.  "In other words, we're not going to leave grade levels."