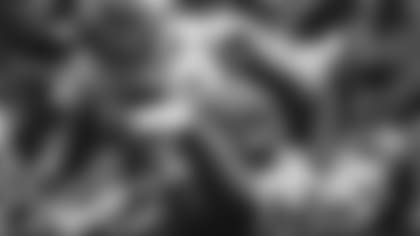 Defense, Take a Bow
Not much more you can say about the way the defense played Sunday. They gave the Jets every chance to win the game and then some, keeping Miami's offense out of the end zone. The pass rush was relentless all afternoon, sacking Brock Osweiler four times (Jordan Jenkins with a pair) and coming close on several other occasions. They held the Dolphins to just seven first downs and a little over 3 yards per play. Along with Jenkins, Avery Williamson (12 tackles, sack) and Jamal Adams (7 tackles, 1 TFL, 2 PD) stood out with their play as well. Adams was emotional in the locker room postgame, disclosing how much he hates losing. I like it. It's that type of attitude that goes a long way towards building a winning culture that you hope is in place for years to come.
Stuck in the Mud
It's hard to win in this league scoring only 6 points. Plain and simple. Having to rely on Jason Myers to kick 50-yard field goals is not sustainable (even though he's having an All-Pro caliber year). What's perhaps most confounding is the Miami defense had been awful in recent weeks. In the previous 5 games, the Dolphins defense surrendered167 points (NYJ 6), an average of 175 yards/game rushing (NYJ 80 yds, 3.8 ypc). Throw in the fact Miami was ranked 29th in 3rd Down Defense (46%) and the Jets proceeded to go 2-for -3. The Jets' starting field position was poor all afternoon as well. Lastly, the Jets offense did not run a single play from inside the Miami 20. Tough to win football games if that's the production you're getting in a league that's now become so offense-centric. On a positive note, tip of the cap to Eli McGuire. The second-year back had a fine performance in his season debut. Look for him to be more of a focal point here in the second half of the season.
Keep On Slinging It, Sam
By all accounts, this was a rough day at the office for Sam Darnold. The rookie threw a career high 4 INTs (including a back-breaking pick 6) while the offense failed to establish any sort of consistent rhythm. On our postgame show, some fans were calling for Darnold to be benched in favor of Josh McCown. Please. I couldn't disagree more. And that's certainly no disrespect to McCown. But when the Jets decided to make Darnold the youngest Week 1 starting QB in NFL history, you had to be prepared for the highs and the lows that come with a first-year passer. By abandoning that plan now, you almost are throwing away the first nine weeks of the season and hitting the pause button on his development. Interceptions are going to happen. Peyton Manning threw 28 picks as a rookie in 1998 while completing just 56 percent of his passes. That Colts team finished 3-13. And Manning also had future Hall of Fame weapons to work with like Marshall Faulk and Marvin Harrison.
Center of Attention
It was an adventure all afternoon for Spencer Long when it came to executing shotgun snaps. I admire the way he's tried to play through various ailments. Among them is a dislocated finger that he re-injured during the game. It caused him to miss last week's contest with Chicago. After what went down yesterday, it might be time to sit him down again until it's at least functional. An errant snap from center can disrupt a quarterback's rhythm and timing. It clearly had an impact on Sam Darnold's pick-six to Jerome Baker. My only question is why he wasn't taken out of the game until the final drive when Jonotthan Harrison finally took his place. Long is a true pro, he's always available at his locker and answers every tough question, but he had a rough day in South Beach.
Odds and Ends
Once again, as they usually do, turnovers decided this game. The Jets lost the turnover battle, 4-0, and 10 of Miami's 13 points came directly off turnovers. Back in Miami's 20-12, Week 2 victory, the Dolphins put up 14 points off 3 New York miscues…The Dolphins were 30th in the NFL in sacks coming into Sunday with 11. As it happened, Miami added 4 more against the Jets and had Sam Darnold on the move for much of the afternoon. Cameron Wake, who's wreaked havoc on the Jets for years, doubled his season sack total with a pair on Sunday…The Jets had to burn a timeout just 1:21 into the second half. That proved to be costly late in the game when they were driving to try and tie things up and were out of timeouts.
Staying in the Division
The Jets have one more game before the Bye week and they'll welcome in the Bills for their first meeting of the season. Buffalo limps in at 2-7 having lost four straight games. It remains to be seen who they'll see at QB, as either Nate Peterman, Derek Anderson or Josh Allen could be under center for the visitors. Regardless who gets the nod, the Green & White are hoping to stop the bleeding and head into the week off with their first division win of the season.