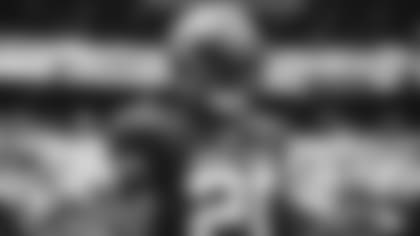 Marcus Maye has never played a game in the National Football League without Jamal Adams as his safety partner. That might change as Adams did not practice this week because of an ankle sprain and is doubtful for Sunday's meeting with the Dolphins at MetLife Stadium.
"Definitely weird because it's been the other way around with me missing time, so now I'll get a taste of it," Maye said. "Now I have to figure out a way to bring everybody along on the same page and just go out there and play the game."
Adams was the Jets' best player through the first three quarters of the season, ranking atop the defensive unit in tackles (77), solo stops (66), sacks (6.5), QB hits (14), forced fumbles (2) and touchdowns (2). His 7 pass defenses are tied for the unit lead and Adams has produced 14 tackles for loss. You can't simply replace Adams in the lineup, but one of Maye's roles won't change in the sense that he is the quarterback of the secondary.
"Just have to step up with communication and make sure everyone is on the same page," he said. "It's my job, it's my title being back there at free safety. With the new guys coming in, I have to make sure everyone is on the same page."
Since being taken with the No. 6 overall pick in the 2017 NFL Draft, Adams has started all 48 games the Jets have played. Maye, a Florida product taken a round later than his running mate, was limited to 6 games last season because of thumb and shoulder ailments. But on Sunday against the Dolphins, Maye will make his 13th consecutive start.
"I think he has really done a good job of diving into this defense and knowing all the ins and outs," Coach Adam Gase said of Maye. "I think those two guys play off each other very well. I think at the end of the day, they could be interchangeable if that was our choice. I think it is hard to take Jamal out of where he is really been having so much success, but I also think Marcus does a great job with what we ask him to do and I think he is one of the sharpest guys I've been around as far as knowing what the linebackers do and what the D-line does. He knows all the little details of the whole defense."
The understated Maye has played a critical role in Gregg Williams' system, calling out disguises and coverages. When they've been at their best, the Green & White have stopped the run and befuddled quarterbacks with their looks in the back end.
"It gives you the freedom to line up different places and see different things, and to show different people different looks," Maye said of the Williams attack. "I get to make sure everybody is on the same page, because when you're back there at free safety, you need that person to be the eyes behind you. That's what that role plays as and the responsibility for the free safety is to get everybody lined up, make sure everybody is on the same page and be that last line of defense."
In addition to Adams, the Jets could be minus the services of cornerbacks Brian Poole (concussion protocol) Arthur Maulet (calf) and Maurice Canady (illness). Gase has said it will be "all hands on deck" game for a secondary that has started rookie Bless Austin, a sixth-round pick out of Rutgers, the past three games; and will benefit from the versatility of Darryl Roberts, who filled in at safety last year with Maye on the sideline.
"Bless came in right away and basically got thrown into the fire, and I feel like he adjusted pretty quickly," Maye said. "Obviously learning on the fly is pretty tough in this league, but they're doing a good job. Getting Swag [Roberts] back last week and having him this week is definitely going to help just having somebody who has been out there that's played a ton of ball to help out some of those young guys."
Without Adams in the box, the 6-0, 207-pound Maye could be used closer to the line of scrimmage in certain packages. Maye, who has registered 43 tackles and 4 PDs to date, has the physicality, versatility and football smarts to make the transition.
"It's a different read just being down there, a lot of different people moving and stuff like that," he said of moving locations. "But you play fundamental football, play with your eyes and you'll be all right."
Maye and the reshuffled secondary will be challenged by a rejuvenated Ryan Fitzpatrick, a journeyman signal-caller who's guided the 'Fins to a 3-2 mark in their last five games while averaging 272 pass yards and totaling 8 scoring passes. And his No. 1 receiver is DeVante Parker, a 6-3, 216-pounder who has amassed 20 receptions, 385 receiving yards and 2 TDs the past three games.
"He's that type of receiver when he's on, he's on," Maye said of Parker. "He's rolling right now, so we know he's going to get a lot of targets and we've got to be prepared for it. We have to meet him at the point of attack. His catch radius is pretty high, so you just have to be physical and play the game."
With Adams likely out and all the moving parts, Maye believes all the defensive backs have to raise their play to even the season series with the 'Fins.
"Everybody just has to step up," he said. "Don't go out there and try to be somebody that you're not — don't try to go out there and do too much. Be yourself, but with him not being out there, everybody has to step up a little bit."