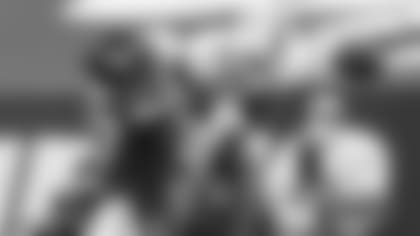 Since Zach Wilson went down with a knee injury vs. the Patriots on Oct. 24, Mike White, Josh Johnson and Joe Flacco have taken snaps over the past three-and-a-half games. And while Flacco will become the Jets' third starting signal caller in 10 games when the Green & White (2-7) host the Miami Dolphins (3-7) at MetLife Stadium on Sunday, the club is in need of a reversal of fortune on defense.
"We're not going to make huge fundamental changes and I know that might piss some people off because they're like, "Change it, it's just all [crappy].' But there are some base fundamentals that we're getting better at," defensive coordinator Jeff Ulbrich said this week. "Is that reflected on Sunday? No, not right now. And it's not delivering the type of results that are necessary to be successful in this league and ultimately, wins are how we all are judged and it's not been good enough."
In their four games following the bye, the Jets have been allowed 43 points and 472 yards on average. A unit that thrived on third down and in the red zone early this season has fallen back to 21st (41.3%) and T20th (63.6%). Last Sunday, the Bills scored TDs on 6 of their 7 trips inside the 20. Multiple injuries have hurt the defensive line rotation and have forced a facelift at safety. An already young cornerback group lost rookie Brandin Echols to injured reserve this week. C.J. Mosley has provided stability at a linebacker position that has seen multiple players miss time.
"We're young and we're also playing some guys who haven't necessarily been here," Ulbrich said. "Not necessarily with us since the offseason, I'm talking about they weren't even with us in camp. Really, we're learning these guys as we go. We're learning the new guys and trying to find the best ways to utilize what they can do well. We need to do a better job of it. There's no doubt about that."
Despite missing a game, Mosley, a team captain, still leads team in tackles (72) and his 9 per game are a top-10 average in the league. As he leads a unit that hopes to rebound against a Dolphins unit that ranks 29th in total offense (302.7 Yds/G) and 28th in scoring (17.7 Pts/G), the D's oldest player (29) continues to provide the wisdom necessary during a turbulent time.
"The young guys have to learn from their mistakes fast and not keep repeating them," Mosley said. "And for the older guys, we have to make sure we are doing the right things every day to show them and lead them the right way to be ready for the game, be mentally prepared and physically prepared."
The Jets are prepared for a Dolphins attack that features a lot of run/pass options (RPOs). QB Tua Tagovailoa, the No. 5 overall selection in the 2020 draft, is completing 65.3% of his passes, RB Myles Gaskin is a dual-threat rookie playmaker. Jaylen Waddle has 60 receptions and TE Mike Gesicki (6-6, 247) remains a matchup problem.
"The beauty of it is we saw the RPOs last week too — Buffalo runs quite a bit of them," Ulbrich said. "But it's absolutely a challenge especially when you have playmakers like they do at the wide receiver position, they have a big tight end who is an absolute size mismatch for a DB and he's an athletic mismatch for a linebacker. Waddle is getting revved up unfortunately, and then you have a quarterback that in my opinion, that's what he does best. That definitely lends to his strength of stuff that he did in college and that he success with. He also throws a good deep ball, but the RPOs are going to be a big part of our success on Sunday, how we defend them."
In June, head coach Robert Saleh talked about playing young players and not being afraid to experience bumps because there is light at the end of the tunnel. For the defense of late, it's been a freight train but the group remains on the tracks together. 
"You are getting a thorough evaluation of guys that you wouldn't necessarily have played, and you're getting experience that hopefully we'll bank and we'll lean on as we go forward and we get better," Ulbrich said. "It's a delicate process because it's like we could flip this entire system upside down and try to create something different to try to help mitigate some of this damage that we're taking where you tweak. That's what we always do, we tweak within what we're doing and try to help these guys be successful, but at the same time try not to abandon the foundation that we're trying to create when we do get all those pieces in place."
Mosley added: "I think our morale is good. We're excited for the opportunity to get on the field every single day, we get a chance to grow every day and we get a chance to really see who we really are and how we respond."
See the Top Practice Images Leading Up to the Sunday's Game at MetLife Stadium Against the Dolphins