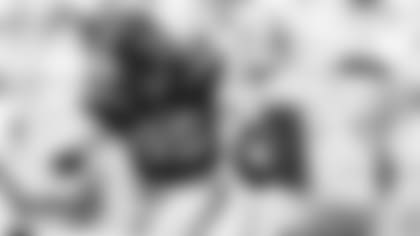 Entering Sunday's contest between the Jets and the Dolphins at Hard Rock Stadium, the longtime AFC East rivals find themselves at opposite ends of the spectrum. While the Jets (3-10) have been eliminated from the postseason, the rising Fins (6-7) would like to continue their improbable run toward a playoff berth. Yet first-year Jets HC Robert Saleh views the game as an invaluable opportunity for his young group.
"December football is different," he said this week. "It is different, in terms of being in the hunt, getting ready to play for a chance to go get into the dance and play for a championship. That is a big deal. And to understand that Miami's in the playoff hunt, they're bringing a different style than we saw a few weeks ago. It's going to be different. And to understand the intensity level and feel that intensity level, capture that intensity level and embrace it."
Less than one month ago, the Dolphins topped the Jets, 24-17, in a hotly contested affair at MetLife Stadium. The clubs basically played to a statistical draw on the stat sheet, but the Green & White couldn't overcome a 1-of-4 performance inside the red zone, two missed field goals, a turnover inside the Miami 10, a 65-yard scoring pass from Tua Tagovailoa to Mack Hollins and two critical late defensive penalties.
Saleh said of the rematch: "There's going to be nuances, there's little tricks, there's little wrinkles here and there, but the identities don't change."
But personnel does. The Jets are still missing offensive playmaker Elijah Moore (quad) who torched the Fins for 8 catches, 141 yards and a 62-yard TD. The Dolphins have Covid issues and are expected to be without their star rookie wideout Jaylen Waddle, who had 8 catches and 65 yards against the Jets, and their leading tackler that day in S Jevon Holland (6 stops, 1 FR).
"As of right now, we have to stick with our game plan because we don't know what type or personnel they might try to bring out," LB C.J. Mosley said. "It's pretty much going in with our game plan I would assume and then adjusting to whatever type of formation or offensive set they want to use."
The Jets are expected to have a number of key players back from injury including RBs Michael Carter and Tevin Coleman, TE Tyler Kroft and hybrid FB/TE Trevon Wesco on offense in addition to nickel CB Michael Carter II and pass rusher Bryce Huff. After an uneven performance in last week's 30-9 loss to the Saints, Zach Wilson will start against the Dolphins for the first time in his career.
"Zach is the future of this organization," Saleh said. "He's the number two pick, he's extremely talented, he's got a great head on his shoulders, he's a phenomenal young man and these are the types of games he has to go through. He has to learn how to play football in the NFL, he has to get these reps."
Joe Flacco received the reps against the Dolphins the first time around and he knocked them out of their Cover 0 package due to his ability to read and get the ball out quickly, throwing for 291 yards and a pair of TDs. The Dolphins blitz more than any team in the league and that isn't likely to change against Wilson, who has connected on 56% of his passes this season with 6 TDs and 11 INTs. With their young QB, the Jets are emphasizing tempo and matching eyes with his feet while trusting what he sees.
"Causing chaos is one of their biggest things, getting to the quarterback, the all-out pressures," Wilson said of the Dolphins. "Thinking you have to be in the perfect look and then you do a lot things to get in the right look and then they do something. I think they do a good job of making you feel you have to do a lot to beat it. I think it's going to be an awesome challenge. I'm looking forward to go against it because I think it's going to help me be a better quarterback."
Tagovailoa, the No. 5 overall selection in the 2020, has become a better quarterback in his sophomore pro campaign. Despite speculation swirling about Miami's future plans at the position, Tagovailoa has posted a passer rating north of 100 in his last four starts while throwing 5 TDs with 1 INT.
"Consistency," Saleh said when asked about Tagovailoa. "He has been doing a really good job getting the ball where it needs to go. He's doing a good job creating off-schedule. They've been able to possess the ball for periods of time. Obviously, their defense is doing a really nice job getting them the ball also. Altogether, the three phases in Miami, special teams, offense, defense, they've all been operating at high levels, but Tua's consistency has been pretty impressive."
On Sunday, the Jets will match up with a team that has to keep winning to keep its playoff hopes alive. The Dolphins are hot, having won five straight games, and their South Florida home will be hot and humid. For Saleh's club, this is another step in the process.
"We're going to be in these positions for years to come and we're going to be in December playing meaningful games," he said. "So, it's really exciting for these next four games because it doesn't matter that we're already eliminated because there's still a lot of things that we can learn. As I said, we're going to be in these positions, we're going to have a lot more wins than we do now and these games are going to be meaningful, and so what can we learn from all of this moving forward."
See the Top Practice Images Leading Up to the Sunday's Game at Miami