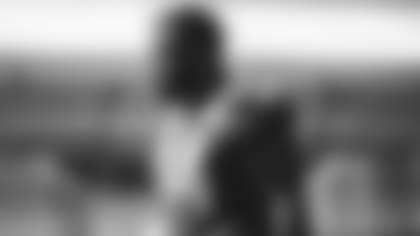 This past Monday, Oct. 10, was World Mental Health Day in 150 countries around the world. The annual event, first celebrated in 1992, is a program to focus attention on mental illness and the effects it has on people worldwide. The theme of this year's program was Make Mental Health & Well-Being for All -- a Global Priority.
For Jets' defensive lineman Solomon Thomas, mental health is a personal priority. His dear sister Ella, a bubbly young woman who suffered from anxiety and depression committed suicide in 2018 at age 24.
"It shocked my family's world," Thomas, 27, told team reporter Eric Allen and former linebacker Bart Scott on this week's edition of "The Official Jets Podcast." "I didn't know much about mental health, this taboo thing. People would say to me 'sorry for your loss,' but didn't understand. You could feel this stigma around it was this burden, this thing you couldn't really touch on. It affected my grief process. We were close, and I just lost her.
"It was the guilt of missing that person. I was the third pick [by San Francisco] in the draft 2017 and I felt the pressure of not performing. I felt I couldn't talk about my sister and my struggles. I thought people would say I'm being weak, so I didn't talk about my emotions or how hard a life I was living or how dark it was. I got to a dark place, I didn't want to be here, and I was really struggling. It was hard to wake up, hard to go to work, hard to see the light of the day. I was approached by my former boss [49ers GM] John Lynch who gave me permission to get help. I learned how to cope with my emotions, honor my anger, sadness and depression. I learned different coping mechanisms and was thrown into the world of mental health, and I got better. Now I can go and talk about my journey."
Thomas, with his mother, father and cousin realized that others had been forced to deal with their grief and realization of signals missed. Together they formed The Defensive Line, a foundation with a "mission to end the epidemic of youth suicide, especially for people of color by connecting and transforming the way we connect on mental health," Thomas said, "by going to schools [he gave a talk at Clifton High School on Tuesday night], businesses, sports programs and teaching mentors how to have a better mental health environment. How to have the language to talk about it, address warning signs and what to do in crisis situations."
Thomas, signed by the Jets in free agency, played with the 49ers from 2017-2020, spent a season with the Raiders, then joined the Jets. He was quick to point out that in the NFL's gladiator culture, the notion of addressing even a hint of mental struggle had for years been frowned upon, viewed as unmanly and a sign of weakness. Things are changing, but perceptions are hard to change.
"There's a changing narrative in the locker room," Thomas said. "It's huge, we spend more time being Clark Kent than Superman. It's important to acknowledge we're human beings. That we can't always have this persona that we're gladiators, that we can tough everything out and rub dirt in it.
"Hey, we're human beings and go through emotions and feelings, and it's OK to be sad, depressed, anxious and have to find ways to cope and combat that. And to realize as men that it's OK to talk, to have a safe place and say I'm not doing well, can we talk or who can help. We're not taught to deal with the ups and down of life, the diversity of emotions or given language to describe it. There's so much pressure to be tough just to get through it. In reality, we're all going to go through up-and-down emotions we claim are bad, like being sad, depressed, awkward, angry, and teach others how to deal with them. In an NFL locker room, it's gotten better. It's improved. Me and other guys are talking, telling stories -- me, A.J. Brown, Darius Leonard, Max Crosby -- so many speaking out have opened up space for guys to be human. This NFL life is a lot of pressure and expectations. I think we've opened that space for players, and I hope it saves lives and teaches men in the gladiator space that we can be sensitive, too, we can meditate, go to therapy, we can journal. I think this space is really changing."
Thomas said that he was particularly affected by the reaction of his defensive coordinator in San Francisco -- Robert Saleh -- one of the people who sought him out in free agency and one of the people who understood that a person, who happened to be an NFL player, was suffering.
"He always had my back after my sister died," Thomas said. "He reached out and let me know he was there for me. He's always been a good human being to me, had my back and I'm thankful for him. When I went through that hard time they supported me -- the Niners and Saleh had been great for me during that time."
He added: "I've gotten some amazing support from my NFL brothers back in San Fran who started speaking, saying they loved on me a lot, they read an article about it and said they were there for me. It carried on to Vegas, a lot of cool situations, connections with teammates asking me where to get help, where I got help. It was really cool to see. There's this cool connection, a fraternity that has had my back and I want to have theirs. I want to preach that, make sure people have the knowledge and resources to handle it."
Since joining the Jets this season, Thomas (6-3, 275) has played in all five games, taking 35% of the snaps on defense while also playing a bit on special teams as he works himself into a DL rotation that has emerged as one of the team's strengths.
After Sunday's empathic victory over Miami, he said: "It's feeling great. Obviously, it's been great after Victory Monday. But there are things to work on. We're hungry, we're talented and we're putting things together. If we keep putting things together, I think we're destined for great things. We'll keep learning how to win. I'm a huge believer in this group and really excited about this group.
On the Jets' batch of rookies: "They're not playing like rookies. It's fun to watch -- AVT [Alijah Vera-Tucker] at guard, tackle, he's ballin', Breece [Hall] is fun to watch. Sauce [Gardner] ... they don't play like rookies, they're detailed and talented. They're not afraid of the NFL."
On Quinnen Williams: "He's dominating at another level now, he's too strong, too fast. He can be the defensive MVP in the league. He is a force to be reckoned with. Q is playing lights out right now."
On playing at Green Bay and against Aaron Rodgers on Sunday: "It's always fun to go play in Lambeau, it's one of my favorite places to play. It's cold, there's great history and it's the only thing in that town. They have a good field, half turf, half grass and it's heated. It's like a college atmosphere. It's always fun to play against a future hall of famer (Aaron Rodgers). He's always prepared and can change a game at any time. He knows how to draw penalties and go down field."