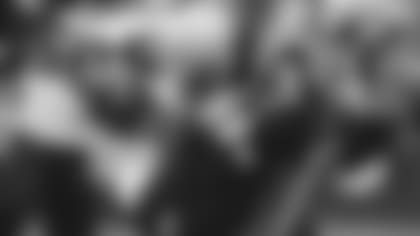 Robert Saleh's "Baby Jets" are growing up. Fast. Their latest win Sunday in Green Bay — a 27-10 triumph over the Packers — was just the latest example of the rapid development.
And though defensive lineman Quinnen Williams, now in his fourth year, is not among the group of impactful youngsters drafted the past two years, there has been a bounce in his step, a violence in his play and growing recognition throughout the league that he is growing into the dominant player the Jets thought they were getting when he was selected third overall in the 2019 NFL Draft.
"As a defense we're trying to chase perfection," Williams, who is only 24 himself, said after the game, walking to the podium wearing a pair of sunglasses as a result of being poked in the eye late in the second quarter. He went to the locker room early, but returned and was part of the Jets' 24-point second half and a defense that held Green Bay to 10 points in the 17-point win.
"I don't think this was a statement game," Williams said. "It was coming in and doing our job, playing football on Sunday as a unit. As a team the biggest thing for us is execution and communication week in and week out. We know our downfall is when we don't communicate. But when we do 100 percent, all 11 on the field we're a great defense."
The Jets' third straight victory (the first three-game win streak since 2019), and third straight on the road (first 3-0 start on the road since 2010), improved the team's record to 4-2 ahead of next Sunday's game at Denver. According to stats from the NFL, teams that start the season with a 4-2 record advance to the playoffs 63.6% of the time.
The first half was a defensive struggle -- for both teams -- in a steady rain at Lambeau Field. The Packers (3-3) returned home to Wisconsin after last week's loss to the Giants in London. Before Sunday's loss, Green Bay was 10-0 after a loss under HC Matt LaFleur and had won their past 12 games after a defeat; while also triumphing in their last 15 regular-season games at Lambeau Field.
Williams' stat line was only an indication of the impact he had on the game. Overall, Williams had 4 solo tackles (5 overall), a pair of sacks (for 20 yards), 3 hits of Packers' QB Aaron Rodgers, 2 TFLs, 1 forced fumble and a blocked extra point. In all, the Jets sacked Rodgers 4 times (John Franklin-Myers and Sheldon Rankins got the others); he was also hit 9 times in all.
"He's playing at a different level," HC Robert Saleh said after the game, referring to Williams. "But it has to continue. We've only six games in, 11 left. If he keeps doing this there's no reason he shouldn't make the Pro Bowl, be All-Pro and earn all the accolades he can get."
Williams telegraphed word that he was going to be a headache for the Packers' offensive line on Green Bay's second offensive series of the game. First, he stuffed RB Aaron Jones for a 5-yard loss on a running play. He then got his paws on Rodgers, notching the strip sack, which was recovered by Jones.
"It says a lot, we always look at it like we can be the best defense if we can communicate and execute," Williams said. "If all 11 don't, we're a below-average defense when we don't. I feel we're one of the best defenses in the NFL. I always speak in our room on being consistent and executing on every single play. The rest will handle itself."
After the Jets went three-and-out on the subsequent series, Rodgers drove the Packers to the Jets' 29-yard line. Then on the first play of the second quarter, rookie DE Michael Clemons and Williams bullrushed their way through the Green Bay line, with Williams getting his hand on Mason Crosby's field-goal attempt. It was the Jets' first blocked field goal since Henry Anderson ruined an attempt at Buffalo in 2018.
Late in the first half, Williams was forced from the game after getting poked in the eye. He returned for the second half with a visor attached to his helmet and resumed his pursuit of Rodgers and anyone else dressed in green who moved as -- incredibly -- the Jets, with the win, matched their win total from the entire 2021 season.
Williams was asked if he and his teammates need to guard against complacency.
"The biggest thing, especially because this organization knows it always wasn't winning, is that we see where we can go when we do what we need to do," he said. "The guys that we brought in don't allow our guys to get complacent. The guys know the biggest thing is to be consistent."
Speaking about his increasingly confident and evolving defense, Saleh said: "Is Quinnen under the radar? I think the rest of the league will or does already know. I feel like our D-line lines up against anybody. They're cocky, confident, whatever. I love our D-line. It's like a rolling ball of butcher knives."