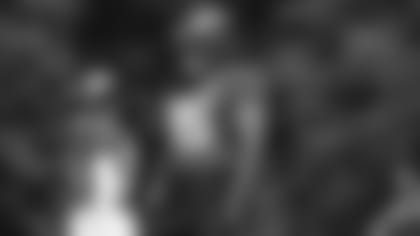 What's the biggest difference in Jets DL Quinnen Williams early in training camp? He is thinking less.
"When you think too much, you're going to naturally take false steps," defensive line coach Andre Carter said. "When you overanalyze, you're going to naturally be slow to react. He was like, 'Hey coach, I learned something today. Just go.' I was like, 'It's about time. I told you that for four or five months.' He had shown flashes of good plays, but now it's continuing to be consistent. It starts in practice. He's been consistent since Day 1 since we've come back as a collective defensive line and he's shown that."
Last December Williams, 22, told newyorkjets.com's Olivia Landis that he was looking "to do way better" in 2020 and described his rookie season as a learning experience. His trainer, Kevin Brown, told ESPN earlier this offseason that Williams is out to prove why he was drafted No. 3 overall. Williams posted training clips to his Instagram account throughout the offseason that included pushing luxury SUVs and treadmill sprints. His coaches and teammates have noticed a difference -- both in the meeting room and on the field.
"He did a lot more with change of direction and just more from a defensive line perspective," Carter said. "I feel like he's more limber as far as turning the corner and bending the edge.
"He's just leaner from a body-fat standpoint. He still has that explosiveness, but he's really coming off. He has a new positive outlook as far as coming into Year 2. I told him as long as you excel and step your game up each and every year, it's the starting point. He believes it and sees it on film. It's coming on strong."
DL Henry Anderson added: "Q, he worked hard this offseason. He's got the right mind-set, he's asking questions, he cares about getting better every day and I'm excited to see him. I really am. I think he's going to continue to progress. I know he wants to do more than he did last year and he will for sure."
Anderson added that it's rare for a defensive lineman to be able to move like Williams can at 6-3, 310 pounds. Williams totaled 31 tackles, 7 tackles for loss and 2.5 sacks in 13 games last season.
"For Quinnen, you see the potential to be great," Anderson said. "He has everything you need for an elite defensive lineman. I'm excited to continue to see him grow. I think the more reps he gets in the defense and the scheme, everything is going to slow down and you get into that mode where you don't have to think about the play-call. It's kind of automatic and you can focus on beating the guy in front of you."
Coach Adam Gase has spoken with Williams a few times since everyone reported to the Atlantic Health Jets Training Center and Gase can sense Williams is on a mission.
"Quinnen has come in and he's gone to work," Gase said. "The couple times I've rolled by him, chatted with him, he looks like he's got his head down, he's working. He isn't looking at talk much."