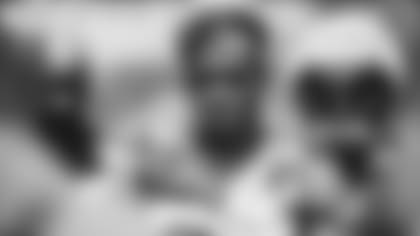 Carl Lawson's repertoire for getting to the quarterback is impressive, whether it's physically during training camp or verbally, while giving a Lawson-trademarked take on a question about a certain Jets QB during media Q&A.
Many Jets on both sides of the ball have raved about how much Aaron Rodgers' presence under center will help not only the team but all positions, be they offense or defense, achieve their goals this season. And Lawson agrees ... to a point.
"Sometimes I don't think I got better on a play because the ball got out so fast. Did the play happen?" the defensive lineman riffed Tuesday following the Jets' fifth practice and first padded practice of camp. "I'm still in my stance when the ball's getting out, so it might be a detriment to me."
But Lawson usually has a twinkle in his eye when he talks with reporters, as he did while discussing the Rodgers effect on the Jets D.
"It'll get you better, because you're playing the best of the best," he said. "I'm just giving you my real answer. I'm like sometimes it's not fun. Sometimes — I'm just saying for me, not being selfish, it's good for the defense — but I want to work on my move and the ball's out."
It's likely, though, that Lawson's short-circuited rushes against Rodgers won't affect his overall impact on the offenses of Jets opponents. He's starting his second season following the Achilles tear that he suffered in August 2021 — during a joint practice with, of all QBs and teams, Rodgers and the Packers in Green Bay — the season when many sports physicians and players say a player can finally turn it loose from a season-ending Achilles injury.
"I feel better," he confirmed, "and I'm only going to keep getting better. So just keeping it one day at a time, just grow and get better."
And while Lawson was posting his most sacks (seven) since his 2017 rookie season with Cincinnati and the second-most QB hits of his career (24, behind his 32 for the Bengals in 2020), the Jets defense around Lawson seems to be ready to match if not surpass last year's rise up the rankings to No. 4 in 311.1 total yards allowed/game and No. 2 with 4.84 yards allowed/play.
And he certainly sees the benefit of having Rodgers putting both sides of the ball through their paces this summer, although again with the contrary take, he said the Hall of Fame QB-to-be's arrival before the April draft didn't automatically cause him to leap onto the hype train as so many others have.
"It's kind of crazy. This whole offseason everyone's talking about Aaron Rodgers, and I've just been working, like, 'Oh, it's cool, we got Rodgers,' "Lawson said. "It's just not really in my world. It's not like I'm avoiding it on purpose. It's just not really there. I'd much rather focus on training and food and other stuff that just part of life."
As laid-back as Lawson is on the subject, he appreciates what Rodgers is selling and the Jets are buying. It's just that he sees the Jets' defense and offense coming together to do great things, whoever the QB may be.
"I think just playing complementary football, I know we're going to have a better offense and a defense that's going to have more takeaways. Everybody will be fresh, improved," Lawson said, adding that the Green & White's goals will be realized with "consistency and just improving and being the best version of yourself every day. ... Not to put too much pressure on myself but just go out there, relax and have some fun."
See the best images from the first fully padded practice of 2023 at Jets Training Camp.