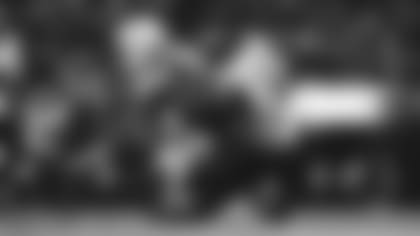 Despite another strong game against an elite quarterbackin the Chargers'Justin Herbert, the Jets defenders expressed frustration about their performance in the team's 27-6 loss on Monday night.
"We have got to find ways to be better," DL Quinnen Williams said. "Figure how to keep them from putting points on the board no matter what. There are things we can do in any situation to help get the ball back to our offense and it is out job to do that."
The Jets' defense held the Chargers offense to 191 net yards and allowed just two touchdowns, both of which came on drives that each began inside the Green & White's territory.
"I love that group," HC Robert Saleh said. "They show up every play and every down and they understand the task of getting the ball as many times as possible regardless of the score and regardless of what's happening on the other side. It's you get the ball back for the offense, period."
In the first half, the Chargers jumped out to a 7-0 lead on an 87-yard punt return touchdown by rookie WR Derius Davis. On the Jets' next offensive possession, Chargers S Alohi Gilman forced a fumble on WR Garrett Wilson in Chargers territory that S Derwin James Jr. recovered on the LAC 29-yard line.
The Jets' defense was able to force a punt, but DE Joey Bosa strip-sacked QB Zach Wilson and recovered the fumble on the Jets' 49-yard line on the ensuing possession. The Chargers drove and scored 8 plays later on a 1-yard touchdown run by RB Austin Ekeler to give Los Angeles a 14-0 first-quarter lead.
"We have to execute and communicate more," Williams said. "We have to do the necessary things on Wednesday, Tuesday and Thursday so that we can be a step ahead and come together as a team and play at a high level early in games."
The defense responded to the slow start with a strong second quarter -- it registered 3 sacks and held the Chargers to 4 first downs and 28 net yards.
With 10 minutes left in the second quarter, pass rusher Jermaine Johnson knocked Herbert backwardon third down and John Franklin-Myers finished off the play by dropping Herbertfor a sack and an 11-yard loss. On the ensuring Jets drive, Greg Zuerlein converted a 47-yard field goal 14-3.
The Jets finished the game with 5 sacks. DE Bryce Huff had 1.5 to reach 5.0on the season – a career-high – and linemen Quinton Jefferson and Franklin-Myers each posted a full sack. Johnson, DL Solomon Thomas and rookie DE Will McDonald each registered half a sack– McDonald's first QB takedown of his NFL career.
In the second half, the Jets held Los Angeles to 83 net yards and 5 first downs. The Chargers' only second-half touchdown came on a 2-yard run by Ekeler. That began inside the Jets 5-yard line following a fumble with just over three minutes remaining in regulation.
Entering Week 9, the Jets defense ranked No. 6 in the NFL this season in takeaways (13). The group forced two fumbles Monday night, but failed to come away with a turnover.
"In those situations, we can get the ball back or flip the field," Williams said. "We can get ourselves in a better situation, or we can get a turnover. Their defense got more turnovers than us today and we pride ourselves on that and we didn't do that today."
Herbert, who came into Monday No. 3 in the NFL in passing touchdowns (14) and No. 7 in passing yards (2,082), was held to 136 yards passing and no touchdowns. The Pro Bowl QB posted a 65.4 passer rating, which was 34.7 points lower than his season average.
All-Pro CB Sauce Gardner registered 2 pass defenses and Franklin-Myers posted 3. But postgame, Gardner reiterated what his head coach and Williams said, and put the responsibility that the defense had to do more to win.
"The way we work in the cornerbacks room is that you are either part of the problem or part of the solution," Gardner said. "Me personally, I pride myself on being part of the solution. And our job as a defense is to get the ball back. The offense is not going and that is on us. If we need to get the ball back to our offense 100 times, then we got to."
See the best photos from Monday night's primetime game against the Chargers.