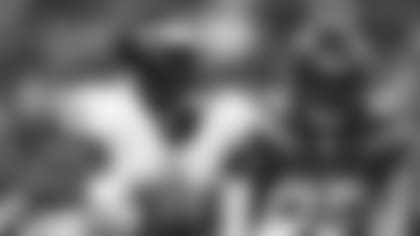 After a 31-21 win against the Broncos and the dual-threat QB Russell Wilson in Week 5, the Jets will take on another versatile QB, Jalen Hurts, and the unbeaten Eagles, in Week 6 on Sunday at MetLife Stadium.
Last season, Hurts accounted for 35 touchdowns (22 passing, 13 rushing) in 15 starts and earned second-team All-Pro honors. This season, Hurts has already thrown for 6 scores and added 4 on the ground.
"You can tell their offensive coaches have a lot of fun structuring their offense around him," Jets defensive coordinator Jeff Ulbrich said. "Because of all the talent and the unique players that they have on their offense. It is going to be a tremendous challenge."
Since becoming Philadelphia's full-time starter in 2021, Hurts has been one of the most efficient signal callers in the league.
In 2022, Hurts led all quarterbacks with 165 rush attempts and 67 rushing first downs, and ran for 760 yards despite missing two games. This season, Hurts has run the ball 55 times, 17 more than the next QB, and delivered 25 first downs, second most in the league.
"Their run game is tremendous right now," Ulbrich said. "And you might say they are just a smash-mouth team, and they are going to be physical, then you might say they are gimmick team that does a lot to attack your scheme. They are both."
In addition, Hurts has been at the center of the Eagles' patented – and recently unstoppable – "tush push" or "brotherly shove" short yardage run play. For those unfamiliar, Hurts, essentially, goes under center, takes a snap from All-Pro center Jason Kelce and lunges forward while getting a push from the offensive line and two players lined up behind him.
Philadelphia has ridden the play's success to a league-best 23.8 first downs per game and second best third-down conversion (51%).
"They will lineup with him under center and run right at you and knock you off the ball," Ulbrich said. "And the next play, he will be in gun, and it will be a zone read where he is pulling it and there are guys leading him. He has all the toys and whistles in the run game and real physicality."
Through the air, Hurts is an improved passer. After completing 52% of his passes as a rookie, Hurts has completed 67% of his passes the last two seasons.
So how do the Jets plan to stop him and the Eagles offense, which ranks No. 2 in total yards and No. 5 in points? Give Hurts several looks on defense while staying true to their scheme.
"You have to consistently challenge them with a lot of different stuff whether its fronts, stunts, picture," Ulbrich said. "Sometimes the front four have to handle him, sometimes you have to have another guy handle him. I think variety and at the same time, us really embracing who we are and what we do and being true to that. We pride ourselves on being physical and getting 11 players to the ball and that has to come to life."
The Jets defense has held its own opposite dual-threat quarterbacks this season. In the Jets' Week 1 win against the Bills, the Green & White held Josh Allen to 36 yards rushing and forced him into 3 interceptions. And against the Chiefs in Week 4, the Jets intercepted reigning NFL MVP Patrick Mahomes twice.
"Sometimes you play a team like this, and you go down deep wormholes in scheme to stop them," Ulbrich said. "We've all been victim of losing the essence of our defense, the style of our team, at times, because of that. We have to makes sure that we never lose sight of what makes us special and that's the style in which we play."