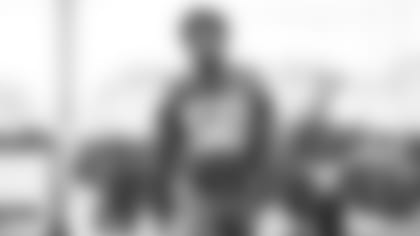 After sustaining a back injury in early August that sidelined him for three weeks, defensive end Carl Lawson rejoined practice Tuesday focused on gearing up for Week 1 against Buffalo.
"I got back to practice two or three days ago, and it was perfect timing," Lawson said. "This is a good week for acclimation because I didn't want to come back during joint practices especially not fully functional. Now we get next week to prepare for Buffalo. It is a good time, everyone is getting healthy, and we have a lot of new faces and a lot of new smiles."
Lawson is no stranger to setbacks. The former Cincinnati Bengal missed all of the 2021-22 season after suffering a torn Achilles tendon during joint practices with the Green Bay Packers. After a year away, Lawson returned to the field last season and registered 7 sacks, 33 tackles and 24 QB hits.
"You treat it like any injury," Lawson said. "It wasn't serious, but I am glad it happened during camp so I can be healthy for the regular season. I got a lot of camp in. I got some good stuff on tape. Physically I am in a good spot. It was a little tiny setback, and I am glad it happened earlier because we got this long run coming up."
During their time off the practice field, cardio became Lawson's top priority. He got comfortable with the bike and got back into drills this week in shape. While away, the Jets went through three preseason games and two joint practices in which the defensive line dominated. Led by All-Pro DT Quinnen Williams, the Jets accumulated 13 sacks over the three games.
"I don't necessarily think the injury will impact my conditioning," Lawson said. "I have been getting on the Peloton. If you guys know about the Peloton, it gets you right and will keep you in football shape without putting too much impact on you. It will more so affect your timing and speed and explosiveness, which you need the practice to get back to it."
The Jets will need Lawson against Buffalo's offense and two-time Pro Bowl QB Josh Allen. Buffalo's gunslinger ran for 762 yards and 7 touchdowns last season. Against the Jets, Allen rushed 19 times for 133 yards and 3 touchdowns.
"Practice has been translating to the field," Lawson said. "As far as how we have been rolling, everything we are doing in practice, we have to continue it to the regular season. Just need to keep checking all the boxes. We have done it in the preseason, now we got to do it in the games."