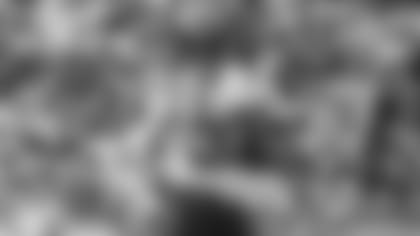 There's a bit of a disconnect when Michael Carter: The Cornerback is asked about the Jets' talented and imposing group of draft picks. After all, the guy known at MCII is basically still wet behind the ears in NFL terms, in only his second pro season after landing with the Green & White as a fifth-round pick in 2021 out of Duke.
But as the steady nickelback, or "baby 'backer" as he's called, Carter is the only holdover as a starter from last season, now surrounded by the Jets' top draft pick, Ahmad Sauce Gardner; two players signed in free agency, CB D.J. Reed and S Jordan Whitehead; and wily veteran, S Lamarcus Joyner, who missed nearly all of last season with a triceps injury.
"They just came in with young energy, sort of how we felt we had to come in last year," Carter, 23, said on this week's edition of "The Official Jets Podcast" with team reporter Eric Allen and former linebacker Bart Scott. "We all don't care what happened before what brought us here, we're here to do some good and change things around. They [this year's crop of rookies] came in with the same energy and rejuvenated everybody. Sauce [Gardner] at cornerback, Garrett [Wilson] at receiver, Breece [Hall, the injured running back], DL Jermaine [Johnson], MC [Micheal Clemons], all those guys came in with a present-tense mindset and a future-oriented mindset. Here and now, what we can do now and what we want to be -- and they're excelling."
Add to that list OL Max Mitchell, who is back from injured reserve and poised to get back into the action.
Gardner, the No. 4 overall draft pick out of Cincinnati, leads the NFL with 14 pass defenses so far this season. He plays older than his years and has made a formidable cornerback tandem with Reed, who was signed from Seattle [the Jets' opponent on New Year's Day].
"That dude is special," Carter said about Gardner. "It's unreal. He's the real deal, he's brought a good vibe to the back end. Everyone knows he's going to handle his business. He's also cool and chill and can have fun. For as high as he was taken in the draft, he's super cool, approachable. I have the utmost respect for him as a person and for what he's doing in the league already. He's special and he's going to do it for a long time. The dude is the real deal, for sure."
As the only holdover starter in the defensive backfield, Carter said it took him and his teammates a bit of time to bring their communication up to snuff, and simply to know the strengths and weaknesses of his colleagues.
"It was a challenge at the beginning, we really didn't know each other," he said. "Out of the secondary from last year, I'm the only one out there. We had to spend time with each other, I had to learn how they think, how fast they process information. It's just stuff like that. We needed extra time, more film, this is how we're going to do it, talk it through. We really put the time in with each other to be able to play at a high level."
In his rookie season, Carter played in 15 of the Jets 17 games and gradually built up his playing time (snap count) as the season progressed. By the end of the campaign, he was regularly seeing 80% of the defensive snaps and more. This season, he's played in each of the Green & White's first 10 games and, statistically, had his best game in the first meeting against the Patriots -- 7 solo tackles and an interception (a pick-6 that was nullified by a penalty). He also had an INT earlier against Pittsburgh.
As the fifth defensive back, the nickel, Carter isn't on the field for every snap as DC Jeff Ulbrich mixes and matches his charges on the defensive line and in the backfield. But he loves the freedom to roam that his position affords.
"What I like most is just I like to tackle, be in the action," he said. "It's cool, I enjoy games the most when they allow me to be what they call a 'baby 'backer.' I enjoy those games, the trust everyone has in me to communicate. The challenge is all the space, a lot of space. You have to man up in there, take it head on and don't back down from any challenge."
Like all his teammates, Carter said that Sunday's loss at New England on a punt return for a touchdown with 5 seconds left in the game left him upset.
"I think the outcome was definitely tough," he said. "I was upset because I felt like our opportunity was taken away. I felt like the defense wanted an opportunity to win the game."
A win would have vaulted the Jets (6-4) into first place in the competitive AFC East. Instead, with the 10-3 loss to the Patriots (6-4), New York finds itself in last place in the division, behind the Patriots on a tiebreaker.
"I feel like as far as not panicking, we know who we are and the style we play and how good we can be when we fix those minute things and get on our details," Carter said. "Everything is fixable.
"There are some things, some plays we left out there that we could have taken advantage of, that could have put the game away on defense. That's the standard -- we got to get the ball. That's what great teams do."
He said the players are well aware of the struggles the offense faced on Sunday, but Carter said when that happens, he believes it's the job of the defense to lift the offense, and vice versa.
"It's still about us in the building," he said. "We put in the time and the work, we believe in each other so we can have those conversations, the hard ones and talk about some things because we have the faith and the respect for each other. There's no division, we have that belief in each other that we can get the job done any Sunday against any team."