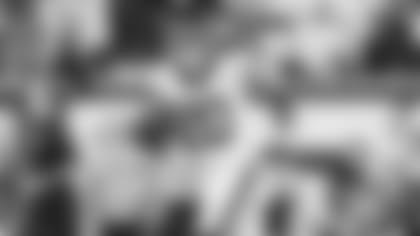 For nearly five months, the Jets' 2023 season was tied to a reinvigorated Aaron Rodgers and a second act in New York. Matched with one of the most talented rosters in football, Rodgers would play the lead role on a team destined to contend for the first time in recent memory. But four snaps (three plays) into his Jets' tenure, Rodgers tore his Achilles tendon and his first season in New York was over.
Despite rallying from a 10-point halftime deficit and toppling the Bills in overtime on Xavier Gipson's 65-yard punt return, many pundits throughout the sports world have penned an end to the Jets' 23 chapter. The Jets have other ideas as they embark on their next 16 games, starting this weekend as they'll head to Texas as the biggest underdog in the NFL this weekend.
"I don't know why people are trying to put an obituary onto our team's name," HC Robert Saleh said. "Aaron is an unbelievable piece to this whole thing, and we love him, but I think there's 52 other guys in the locker room, plus the 16 practice squad guys, that believe that we can do a hell of a lot of good things here."
If there was ever a time for a team to feel sorry for itself, it was the Jets and it was Monday night against the Bills. Rodgers had vanished almost instantly, and they trailed, 13-3, at halftime to a good Bills team at halftime. In the previous 45 times the Jets had trailed by 10 points at half, their record was 3-42. But they rallied behind a suffocating defense that sacked Josh Allen 5 times and forced 4 turnovers from the Bills QB, Zach Wilson hit on 14-of-21 passes including a game-tying TD to stud receiver Garrett Wilson, Breece Hall had an amazing return to action with 127 yards on the ground and rookie UDFA Xavier Gipson ended festivities with only the third OT punt-return TD in league history.
"Obviously losing AR is a tremendous loss," said CB D.J. Reed. "He is an MVP and a Hall of Famer. You can't take having him on the team for granted. You always have a chance to win. But I still feel like we are always going to be in games especially when we are playing complementary football. The last half of the game was a testimony to that."
Veteran Quinton Jefferson, who joined a loaded defensive line this offseason, had 2 sacks of Allen and his locker sits one to the left from the legendary passer. Regardless of who lines up at quarterback for the Jets, Jefferson said the defense will not alter its approach.
"Respect to 8, first ballot Hall of Famer, but we said all offseason that we want people to come to see the defense and I think we still have that same mindset," Jefferson said. "I know one thing, if opponents can't score points, it is hard to beat anyone. If the opposing team can't score, we are always in every game. So, I don't care who we have at quarterback, all I know is what we can control and that is going out there and trying to stop the opposing team from scoring and I believe every guy on the defense has that same mentality."
The Jets held the Bills to a lone field goal in the second half Monday night, providing opportunities and time for Wilson who converted a pair of third downs with his arm in the fourth quarter on passes to Allen Lazard (24 yards) and Garrett Wilson (9 yards) in addition to his fourth-down sneak that set up a Greg Zeurlein field-goal attempt.
"Aaron got hurt on the first drive, and Zach played basically the whole game and we won," Jefferson said. "He made plays when needed. And I am very confident he will go and do the same thing. He got some time to sit and learn under Aaron and watch and see how he works and everything and he is going to do his thing."
Led by game-wrecker Micah Parsons, the Cowboys will provide a stiff test for the Jets' offense. Against the crosstown Giants, the 'Boys racked up 7 sacks, 12 QB hits and scored a TD on CB DaRon Bland's INT return. They are aiming to become the first team to lead the NFL in takeaways in three consecutive seasons since the Pittsburgh Steelers in 1972-74.
"It is next-man up business," Reed said. "It is his gig now, and we are rallying behind Zach, and we trust Zach. We are ready to go."
After rattling Allen, the Jets will match up with an offense led by Dak Prescott. While the Cowboys have averaged an NFL-high 31.4 points with Prescott as starter since 2021 and they averaged 30 pts/g at home last season, Prescott last season led the NFL with 15 INTs in 12 games and he had multiple INTs in five contests.
"It is going to another playoff environment," Jefferson said. "They are a great team. Great defense and great offense and great offensive line. It's going to be a fun matchup."
Just a few plays into the season, the Jets were handed more adversity than any team in football. But belief never has wavered even if their path to victory has significantly changed.
"It is just the way we are built," Reed said. "I think it comes from how hard we work. I would define this team as gritty and I would define this team as being resilient. I think those are two words that define this 2023 Jets team."