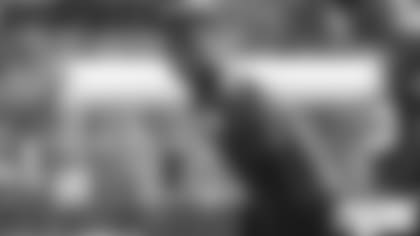 Detroit-born Sauce Gardner is giving new meaning to some half-century-old lyrics by old Motown faves Marvin Gaye and Tammi Terrell. You know how it goes: "Ain't no mountain high enough..."
"I want to be the best version of me," Gardner, the NFL Pro Bowl cornerback, All-Pro and Defensive Rookie of the Year, said after Friday's second practice of training camp about what lies ahead in season two. "I was the best version of myself last year, but I had a whole offseason of working and making my weaknesses my strengths. This year I'll be a whole different version of myself."
The sky's the limit for this second season of Sauce. So says head coach Robert Saleh.
"That's what makes Sauce so special. Every play is personal," Saleh said. "He's trying to do his absolute best, there's no plays off, he's not getting bored, he's challenging himself every day. That's why I'm so excited to see what he does next, because he's just that type of guy that no mountain's high enough. He's just going to keep trying to climb."
Gardner, the Jets' fourth overall pick in the draft, attacked last season with a passion. The stats are now etched in stone: His 20 passes defensed topped the NFL — the first time a rookie has led the league in PDs since Marcus Peters had 26 for the Chiefs in 2015. Gardner's (as well as fellow Jets CB D.J. Reed) by one measure was in the league's top four in lowest percentage of completions allowed for first downs.
One noticeable thing Gardner has discussed about improving is his interceptions. He wasn't alone in the Green & White secondary in low pick output last season but he's eager to top his two thefts in the coming campaign. But that's far from the only obstacle he seeks to climb.
"If I'm not perfect in something, then I consider it a weakness, so I worked on everything," he said. "Press footwork, off footwork, off mechanics, going to get the ball, lean and locate, being more physical in the run game, block and shed. I worked on literally any and everything you can think of. So I guess all of those things are weaknesses."
Where does Gardner's motivation come from? You name it.
"My mom, my family, getting a Super Bowl in my second year, Detroit. The list goes on," he said.
But not on the list is getting fired up about social media, such as the slings and arrows from football critics and the flame war he and Darrelle Revis got into with former Pro Bowl CB Asante Samuel on Twitter earlier this month.
"I've just got to understand that some people, that's just what they do. Some people hate," he said. "That's something minor right there."
But then adding Revis to the Sauce list is major. The Jets' legendary corner will be a first-ballot enshrinee in the Pro Football Hall of Fame on Aug. 5 in Canton, OH, two days after the Jets play the Browns in the Hall of Fame Game.
"I just talked to him last week," he said, adding that Revis "was a guy I was always watching. Just to see him go into the Hall of Fame is great motivation, a true blessing for him, and it's great for the Jets organization in general."
So let's recount. For Sauce Gardner, lying ahead are such possible rewards as Defensive MVP ("I've just got to do my job") and eventually the Hall of Fame ("most definitely" something he thinks about). But primarily, he said this season is not about him as much as it is about the team and their big quest.
"I'm just more team-oriented this year," he said. "I'm taking a whole different approach. I'm not saying I wasn't last year, but I just know we've got something special right now. You can tell how we are in meetings, how our bond is. My main focus is being a better teammate, doing whatever I can so we can win a Super Bowl."
"Whatever mountain he climbs, he's looking for the next highest mountain," Saleh said. "If he goes out and just does the best he can, it'll be good enough."
See the Jets on the field for the second time at 2023 Jets Training Camp.