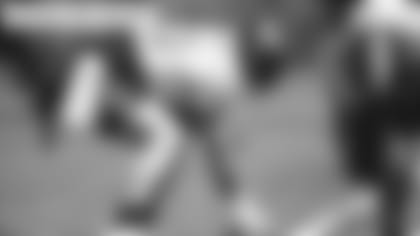 After completing a season in which he was the only one on the Jets' offense to play every snap over all 17 games, veteran center Connor McGovern found himself at a crossroads -- a free agent after six solid seasons in the NFL.
Before departing in January, McGovern met with general manager Joe Douglas and head coach Robert Saleh to discuss what his future might hold in green and white.
"We had a great meeting," McGovern, 30, said on Tuesday. "They were like, 'Hey, we're going to look at the market.' I knew they were going to spend at different positions. After a while, there were not a lot of jobs left and that kind of worked in the Jets' favor. 
"I'm just happy to be here. They told me [after the season] that whatever happens in the market, if the price is right — we want you. They signed Wes [Schweitzer] and Trystan [Colon] so I wasn't sure where I would end up. It was a stressful couple of weeks, but I'm happy to be here. I've been excited ever since to be back on the team."
The price was right, and McGovern signed a one-year deal with the Green & White. Oddly, the transaction flew distinctly under the radar because later that same day the Jets shook the NFL world when they announced the acquisition of four-time NFL MVP QB Aaron Rodgers.
"About four hours after I signed, they announced Aaron," McGovern said. "I don't know if anyone even noticed. I don't even know if it was a footnote."
He added: "I've seen the transition around here and I want to be here now more than ever to make a Super Bowl run."
Playing center is often acknowledged to be one of the least noticed, but immensely important positions on the gridiron. McGovern has been an ironman of sorts during his career, especially as he prepares for his fourth season with the Jets. In the 2022 season, he not only started all 17 games, but played all 1,114 snaps. In his past three seasons, he has played a total of 3,055 offensive snaps, the most on the team over that span -- 98% in 2020, 99% in 2021 and 100% last season.
After adding Schweitzer and Colon to an increasingly deep and versatile offensive line, and signing McGovern, the Jets used their second-round pick (No. 43 overall) in the NFL Draft to nab Wisconsin center Joe Tippmann. On Tuesday, Saleh repeated that it's an open competition at starting center.
"It was the first day in pads," Saleh said. "We're going to find out about all the competition on the offensive line. As I said, I don't take much stock in what happens in the first days, the acclimation periods and OTAs. Obviously, Connor is the vet and understands the game of football at the professional level. I love what Schweitzer is doing, Tip's [Tippmann] catching up. There's a lot of time left, four [preseason] games. There's a lot to be decided over the next month."
Speaking specifically about McGovern, Saleh said: "He's by far the most comfortable. They're all going to get an equal opportunity to get that job. He's a vet. We've won games with him, he's started a lot of games for us [48 of 50 over three seasons] and done a lot of great things for us,. He's obviously a capable starting center in this league. He's proved it over and over again, so when the opportunity came to get him back it was kind of a no-brainer."
McGovern said he's well aware of the competition leading up the regular-season opener against visiting Buffalo on Monday night, Sept. 11.
"I knew before I signed , when having the conversation, 'Hey we signed two guys and we're going to draft somebody to bring in competition,' " he said. "I'm happy to meet the challenge and embrace the competition. It makes you better. We're all fighting for our livelihoods and when you're backed into the corner, you're going to get the best of all of us."
While centers, and McGovern in particular, are often described as the "quarterback" of the offensive line, McGovern and the rest of his teammates are now going to be playing with one of the greatest quarterbacks to ever take a pigskin from a guy squatting in front of them.
Asked about Rodgers' presence, McGovern said: "It's been amazing. You know everything you hear about him from other guys around the league that are tight with him or played with him is all really, really good. So, I was extremely excited to start working with him and it's been nothing but good stuff. The way he takes the game to that next level has been fun.
"I love the mental aspect of this game, the mental side of it. How far you can take it with scheme and cadences and all that kind of crazy stuff, and to watch him master that is incredible. I've learned a ton from him already ... and we're just getting started."
See the best images from the first fully padded practice of 2023 at Jets Training Camp.