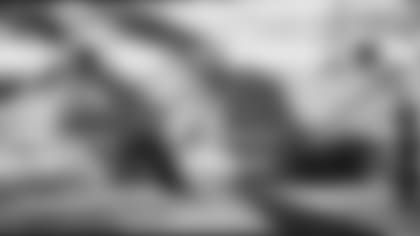 The Jets, in need of their first win of the season and not their third loss, hope to find that W indoors in Indianapolis in today's 4:05 pm ET kickoff against the Colts.
One thing in the Green & White's favor is their attitude coming into this game against their former AFC East partners. "You know, guys I think are pushing on really good energy," QB Sam Darnold said about the Jets' practices. "We've just got to keep it up and execute and play that way on Sunday."
Another small historical note in the visitors' favor is Lucas Oil Stadium itself. Since it replaced the Hoosier/RCA Dome built right next door in downtown Indy, the Jets have won three of their four games there. In 2009, with rookie QB Mark Sanchez at the controls, they ended the Colts' unbeaten season at 14-0 with a 29-15 victory (made controversial by Indy coach Jim Caldwell's decision to sit down many of his starters, including Peyton Manning, after a half of work with the playoffs ahead).
The 2010 playoffs produced the 17-16 AFC Wild Card win for the Jets, secured with Nick Folk's 32-yard 0:00 walkoff field goal. In 2015, Ryan Fitzpatrick held the offensive reins and directed the 20-7 Monday night win over the Colts in Game 2. The only loss in that span was the 2009 AFC Championship Game, with Manning back for the duration and leading the 30-17 win.
But Jets fans know their team will need more than historical trivia and midweek optimism to get the job done against the 1-1 Colts, coming off their home-opening 28-11 dehorning of the Vikings. They will need great performances from all of their "next men up" for this game.
HC Adam Gase has been forced to sit two starting wideouts, his starting right tackle, and two secondary contributors due to injuries. And that doesn't include starting RB Le'Veon Bell, second-round WR Denzel Mims and LB Blake Cashman, all of whom are in the second week of at least a three-week stay on this year's redesigned Injured Reserve list.
For Darnold, that means Frank Gore, 37, will again get the start at tailback, while the WR corps of Chris Hogan, Braxton Berrios, Josh Malone and rookie undrafted free agent Lawrence Cager (elevated from the practice squad) will try to give Darnold some downfield targets and the TE group led by Chris Herndon attempt to get off to a better receiving start to generate some yardage, move the chains, and put points up on Lucas Oil's videoboards. OL Jimmy Murray has also been elevated from the P-squad for this game.
The Jets' seven-player inactive list for the Colts:
QB James Morgan
QB Joe Flacco
WR Breshad Perriman
CB Quincy Wilson
S Ashtyn Davis
T George Fant
WR Jamison Crowder
And the Colts, after placing LB Matthew Adams on IR, have only a four-man inactive list:
QB Jacob Eason
CB Rock Ya-Sin
DT Eli Ankou
WR Dezmon Patmon