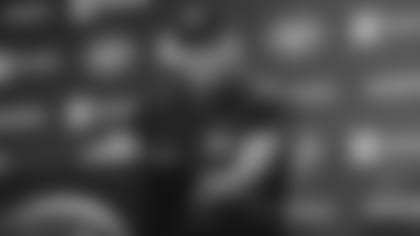 While he's planted in the New Jersey/New York megalopolis, Brant Boyer seems to be a fly-fisherman out of water.
The Jets' special teams coordinator is immersed in his work for much of the year. In the offseason, however, Boyer, 49, heads back to his native Utah and spreads his fishing and hunting desires to Wyoming and Colorado. He is passionate about his job and about his leisure time.
"I went into hunting about 7-8 years ago, before I got into coaching," Boyer told The Official Jets Podcast. "With a couple of partners we leased about 125,000 acres in Colorado. I'm a guide for everything from goose to moose. It's one of my passions. I really enjoy it."
But with Boyer, it's hard to tell which of his passions rules the roost, so to speak. He's been fly-fishing since he was a youngster, he has been immersed in football nearly as long and played linebacker (and on special teams, of course) for 10 seasons in the NFL (with Miami, Jacksonville and Cleveland).
"I'm a huge fisherman," he said. "I'm a big outdoors kind of guy. The key to fly-fishing is patience, but I have two sons and have a hell of a time with that. They think you can go out there and are supposed to catch a fish on every cast. With fly it's different. I've been doing it since I was little, it's a big passion. I'm trying to teach them all I know, but they have problems with patience."
Boyer is in his fifth season as the Jets' special teams coordinator and has helped to transform an ever-changing cast of players into one of the strongest units in the NFL. Boyer has overseen a unit that was in the league's top five each of the last two seasons, according to FootballOutsiders.com, which compiles the statistics in five categories of special teams.
Like his counterparts across the league, Boyer has dealt with constant change among his primary kick and punt returners, kickers and tacklers. He is always tweaking his special-teams equation, but admits there are some constants.
"I'm trying to find guys who want to play on special teams," he said. "When you watch tape on somebody you can always see the 'want to' in them. If a guy refuses to be blocked, refuses to let someone beat him to the tackle, is a tough guy and battles with teammates and goes after people and has that mean streak ... those are the guys I want on my squad. You have to be smart to play in this league and be able to function and learn multiple positions. Those are the kind of guys I look for, guys who are just hard nosed, tough guys that play 100 miles an hour and like to get after people."
In college, Boyer got after people playing linebacker for the University of Arizona's "Desert Swarm" defense. He led the team in tackles during his senior season, helping the Wildcats to their first 10-win season in 90 years and a victory in the 1993 Fiesta Bowl.
"We had a bunch of guys that were all too small, too slow and that nobody wanted," Boyer said about his time in Tucson. "All of them were very lower-recruited guys, but we had a bunch who loved to play together and be around each other. Great teammates that all came together and all worked hard. It was one of the best times in my life."
Drafted by the Dolphins in the sixth round in 1994, Boyer went to the Jaguars in the 1995 Expansion Draft and then on to the Browns in 2001. He was the special teams captain in Jacksonville and Cleveland. In all, he played in 129 career games and totaled 250 tackles, 13 sacks, 6 interceptions, one forced fumble and 15 passes defended.
After his playing days, Boyer spent time in business, but found the business world too different from life on the green, green grass (or artificial turf) of the football field.
"When you leave the game, you realize that everything was regimented, you were told when to be somewhere, what time you got to be somewhere, you were expected to do this and that," Boyer said. "I took some time off and it was really good for me.
"In business, people are always trying to get over on you. I felt that I really missed the guys. I think that's what every player goes through. You can't have the same conversations you have with the guys, you can't joke around with the players, you're not on the grass. It's something I really missed. Football has given me everything I have my whole life. It's a special deal to be part of this."
Boyer said he didn't have to think very long or very hard when Colts Head Coach Chuck Pagano called and offered him a job as an assistant special teams coach ahead of the 2012 season. The long road led him eventually to the Jets in 2016, where he has been ever since. But football can't be forever.
"I just bought a place in Montana right on a lake," he said. "It's where I will build my forever home."