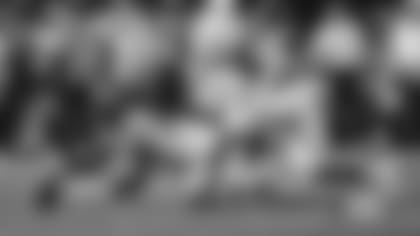 Through seven games, the 2023 Jets have been defined by their collective resilience. With Monday night's prime-time showdown against the Chargers at MetLife Stadium on the horizon, the ascending Jets have an opportunity to gain a fourth consecutive win and move to 5-3 in one of the most unlikely seasons in recent memory.
The Mark of This Group
A season that started with Aaron Rodgers' Achilles tendon tear and was seemingly on the brink as early as Week 4, the Jets have secured away victories over the Broncos and Giants sandwiched around an upset of the 7-1 Eagles. They have trailed in every game this season and still have a winning mark. Since Robert Saleh was appointed head coach in 2021, he's guided the Jets to seven wins when his team has trailed by 10-plus points, tied for most in the league.
Last Sunday, the Jets never trailed by double digits. But the outcome looked gray at best when the Giants, holding a 10-7 lead, took over at the NYJ 26 with 1:26 remaining and Saquon Barkley ran for 6 yards before diving to the ground. Three plays and two timeouts later, the Jets took over with 24 seconds on the clock following a missed field goal attempt. With a fourth-string center and no timeouts, the Jets moved 58 yards in two plays and tied the game on Greg Zeurlein's 35-yard field goal. Overtime followed as did another Zeurlein field goal and another win.
"A lot of resilience from this group," said a rain-soaked Robert Saleh after his club's improbable victory over the Giants. "And it feels like the mark of this group. They never feel like they're out of the game."
Two weeks prior, the Jets came back to top the Eagles despite spotting Philly a 14-3 lead and playing without their star CB tandem of Sauce Gardner and D.J. Reed. Against Denver, the Jets held off a late Broncos rally at the same venue where the defending AFC Champion Chiefs got thumped in Week 8. The 31-21 comeback triumph over the Broncos saw versatile OL Alijah Vera-Tucker go down with an Achilles injury.
The Jets haven't been shaken by adversity and belief permeates the locker room.
"I would say resiliency," QB Zach Wilson said when asked about a common denominator in the team's success. "Guys are fighting regardless of who's in there. We've got some injuries, guys moving around, but just fighting all the way until the end."
Buying In and Believing
If Zach Wilson and the offense continue to protect the football, the Jets will contend for a playoff spot in January. They have the NFL's eighth-ranked scoring defense (18.4 pts/g) and an outstanding special teams group headlined by perhaps the league's best kicking duo in Greg Zeurlein and P Thomas Morstead.
"Really just buying in and believing," said LB Quincy Williams, who has recorded 71 tackles, 8 TFL, 6 PDs, 1 FF and 1 FR, of the team's recent run.
Once again, the Jets have been forced to scramble along the offensive line as they head into a matchup against a Chargers front that includes Khalil Mack (7 sacks), Joey Bosa (4 sacks) and Tuli Tuipoulotu. Center Connor McGovern (knee) and depth piece Wes Schweitzer (calf) went to injured reserve this week to join Vera-Tucker. Duane Brown (shoulder/hip) has returned to practice and rookie Joe Tippmann (quad) might be back in game action after a one-game absence. GM Joe Douglas didn't make a trade on deadline day, but he did sign veteran Rodger Saffold to the practice squad and the team elevated Chris Glaser to the active roster.
"We made a lot of inquires, a lot of discussions about a lot of different positions," Douglas said. "But ultimately, we didn't get any other deals done and that's where we are."
Chargers a Great Challenge
The Jets' 29th ranked total offense (273.3 yds/) and 31st passing offense (164.3 yds/g) will look to break through against a Chargers unit that ranks 31st in total defense (390.9 yds/g) and 32nd in passing defense (297.4 yds/g). Although the Chargers yield 24 pts/g, they boast the NFL's 6th-ranked rush defense.
"Obviously, a lot of really good players, great scheme, a team that I'm excited to go play against," Wilson said. "An unbelievable offense on the other side of the ball, a team I like to study and watch too, so it's going to be a great challenge for us."
A great challenge awaits the Jets defense as well in Chargers QB Justin Herbert. In three games to date vs. Josh Allen, Patrick Mahomes and Josh Allen, the Jets went 2-1 and held those elite passers to 3 TDs, 8 INTs and a 61.7 passer rating. Herbert, who is sixth in the NFL with a career-high 101.1 passer rating, has averaged 284 yards with 29 pass TDs and 9 INTs in his 14 primetime starts. The Jets allowed a franchise-low minus-9 pass yards against the Giants and enter this contest on a streak of 25 straight games without allowing 270 or more pass yards.
"Shoot man, there they are loaded," Robert Saleh said. "Herbert is one of the better ones in football. Their o-line has always played really well. [Keenan] Allen (54-643-4TD) is one of the better receivers involved. [Austin] Ekeler is a fantastic back, their tight ends are really good. So it's a talented group."
Quincy Williams added about Herbert: "He's a great quarterback. The biggest things are the weapons around him, he is really good using those guys. Austin Ekeler is his kind of get out of jail free card."
Huge Monday Night Game
Despite adversity, the Jets have remained solvent this season while staying out of football ruin. They've never panicked.
"It's just like in a tornado, you get sucked up, spun around in circles, get thrown out 20 miles away with no cellphone and you're not able to communicate," said WR Allen Lazard. "We're just trying to figure it out."
Nine teams in the AFC enter the weekend with records north of .500. While the Jets look to extend their win streak, the Chargers (3-4) hope both clubs will have 4-4 marks after eight games.
"We're 4-3," Douglas said. "There's a lot in front of us. We have 10 games left. So, look everything we do is in the here and now. We have a huge game Monday night. A really good football team is coming into MetLife. We need to be ready. We need to be on top of our details and disciplined and ready to roll because we have one of the better quarterbacks in the National Football League coming in here and a really good team that we have a lot of respect for."