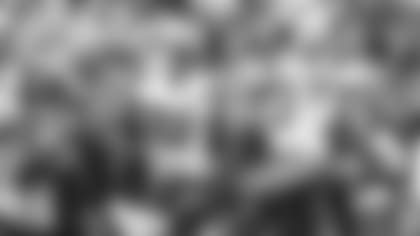 The Jets had gone a franchise-record five games without a takeaway. A team that had lived off the takeaway couldn't buy one, but their high-priced offseason addition put an end to that in the first quarter of the Jets clash with the Titans in Nashville.
Cornerback Trumaine Johnson, who had been limited to six games this season due to a quad injury and had not recorded a theft since Week 1, picked off Titans quarterback Marcus Mariota in the first quarter and returned it 31 yards for a score. It was the Jets' third interception return for a touchdown in 2018, their most in a season since 2010.
The Jets brought a six-man pressure on the early takeaway and Johnson showed his veteran craftiness, avoiding an attempted pick play on the outside and then jumping the route of wideout Cameron Batson. Once Johnson corralled the errant Mariota toss, he had a lot of green in front of him and high-stepping safety Jamal Adams was more than happy to lead the way to the end zone.
"I was high in protection and it was just a mistake, to be honest with you," Mariota told reporters after the game. "I can't be throwing a hot route blind. You've got to see what's going on in front of it. Trumaine did a good job of making a play." 
Johnson, a 6'2", 213-pounder who spent his first six professional seasons with the Rams, now has 20 interceptions. His teams are 15-4 when he has a pick and his momentum-changing play was the Jets' 16th takeaway of the season.
Despite a hot start to the game, Johnson had a frustrating finish in the Jets' 26-22 loss. He was flagged for a facemask penalty on the defense's final drive that put the Titans on the Jets' 39-yard line with 1:11 left in regulation down 22-19. Four plays later, Tennessee took their first lead of the game on a Corey Davis 11-yard touchdown reception with 42 seconds remaining.
"That last drive, it was big," said Johnson, who committed one of the team's three penalties on their final drive. "Regardless of what we did in the first, second, third or fourth quarter, when it's crunch time with two minutes left, you can't do that."