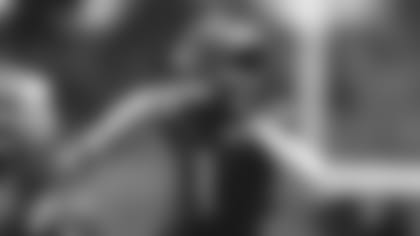 Jets rookie cornerback Sauce Gardner would never profess to being perfect. But that doesn't mean he'll suspend his quest.
"As a cornerback, nobody's perfect, but I still try to be," Gardner told reporters on Tuesday, the first day of mandatory minicamp at the Atlantic Health Jets Training Center. "If not perfect, be consistent, be fundamentally sound. I try to be perfect, but there's no such thing."
The early 411 on the No. 4 overall selection in the 2022 NFL Draft is that he was never beaten for a touchdown reception in his three seasons at Cincinnati. In three seasons at Cincinnati, Gardner had 9 INTS and didn't allow a TD. In 2021, he allowed only 13 catches for 117 yards according to PFF College, while grabbing 3 INTS, 3 sacks and 4 PDs.
"Yeah, I've gotten beaten before. Nobody is perfect," he said. "The best receivers I've guarded are probably Jameson Williams, Calvin Austin, I remember I guarded Garrett [Wilson, now a teammate] in like the fourth quarter my freshman year in college. So, yeah, those are probably the best receivers I went up against. It's just a tribute to putting the work in, the unseen work, required hours. Just making sure I practice to be consistent because I know nobody is perfect and that's just what came with it."
During last week's OTA sessions, Gardner's performance was one of the most dissected and remarked upon by all observers -- coaches, players and the media.
"Sauce doesn't repeat errors," defensive coordinator Jeff Ulbrich said on Tuesday, using Gardner's ubiquitous nickname. "He's a guy who's hungry to learn. Most of the time he figures things out on his own, he's got a thirst for the game. If he does make an error, he goes immediately to his coaches to figure it out and it doesn't happen again. There are not going to be a lot of rookie moments for him."
Gardner wasted no time when he became the quickest Jets' first-round pick to sign his rookie deal (four years ,with a team option for a fifth) in the last 40 years. After wearing No. 20 during the team's rookie minicamp, Gardner made his first pro transaction with veteran CB D.J. Reed (who was signed in free agency) to secure jersey No. 1.
"I think it fits me best," Gardner said, which makes his long 6-3 frame seem even longer with the single digit stretching from top to bottom of his jersey.
Asked what his biggest challenge has been so far as a professional, Gardner said it was taking care of his body. Not an unfamiliar playbook?
"The playbook? That's easy," he said. "I studied a lot, so I can do it on the field and execute. I would say taking care of my body. You can always be better, especially me being younger. Man, I want to play forever. I studied a lot. I feel this is a perfect scheme, it fits what we do and makes it real easy for me."
To play the cornerback position, which often leaves the defensive player on an "island" against a top receiver, you must have supreme confidence in your ability and your ability to deny the ball to the opposing receiver. During OTAs, he faced two of the best the Jets have to offer in Corey Davis and second-year receiver Elijah Moore.
"They're kind of different," Gardner said with little irony in his voice, comparing the 6-3 Davis to the 5-10 Moore. "Corey's got a lot of strength, more than Elijah but he doesn't mind if I get physical with him. They all have different styles and that's making me better. I love to compete.
"I just think I'm making them better and they're making me better. We got guys short and tall, different styles and they're making me a lot better."
He acknowledged the challenge of having to play zone defense, saying "it's cool, whatever the coaches ask of me is what I'm going to work on. I played zone in college and don't mind if I have to do it in the NFL. I'm always working my craft, man, zone or whatever. I'll have to work on it more and more."
After the completion of minicamp this week, Gardner said that he plans to take off for a few days, then return to 1 Jets Drive to keep working on his fitness.
And while Gardner is nearly universally referred to by his nickname of Sauce, given to him by a coach when he was young because he did it all, the Jets' captain of the defense, C.J. Mosley, believes that the nickname must be earned.
"His name is Ahmad," Mosley said. "We're not calling him Sauce as a rookie. Once he makes a play, we'll give him Sauce. Sauce is for the fans. He's just pure raw talent."
Now there's some food for thought: the perfect sauce.
See the best images of the Green & White during the first practice of Mandatory Minicamp week at 1 Jets Drive.