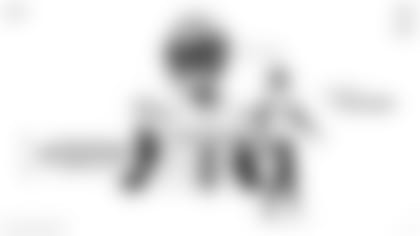 Jets CB Sauce Gardner was named the NFL's Pepsi Zero Sugar Rookie of the Week for after helping lift the Jets to a 16-9 victory against Denver at Empower Stadium in a Week 7 game last Sunday.
Gardner registered 10 tackles and 3 PDs including one late game on Denver's second-to-last offensive possession with 2 minutes remaining and leading by 7 points. On fourth-and-3, Gardner timed the pass by QB Brett Rypien to WR Cortland Sutton, got his hand on the ball and knocked it incomplete in the end zone.
"That was a play I was just looking through my man to the quarterback trying to locate the ball," Gardner said. "He was a little aggressive, so it was hard for me to spot the ball and my face mask was all over the place. But I finally ended up playing through his hands and made a pretty good play."
It was Gardner's seventh-straight game with a PD making him the only rookie since 2000 with that distinction. His 12 PDs lead the league.
"We knew it was going to be a defensive game," Gardner said. "So, we just had to step up and make some plays."
In man coverage this season, Gardner has allowed 3 receptions for 10 yards and he is fourth among all corners with at least 50 coverage snaps, allowing a 42.4 passer rating when lined up at outside corner.
"He made a few plays," HC Robert Saleh said. "He's doing a heck of a job. He had a play in the first half on [WR Jerry] Jeudy. He's playing at a very high level."
Gardner also won the award in Week 5 against Miami after grabbing his first career interception. A Jets rookie has won the award five times in the first seven weeks this season. WR Garrett Wilson won in Week 2 and RB Breece Hall won in Weeks 4 and 6.