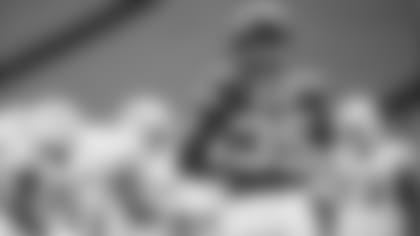 Pierre Desir comes by his skill and athleticism honestly -- his father, Jean-Claude Désir, was an elite soccer midfielder in his native Haiti who appeared in all three of his country's matches (all first-round defeats) at the 1974 World Cup in West Germany. The senior Desir also made a stop in Detroit to play for the Cougars (1968) in the old North American Soccer League.
Pierre, however, made the switch as a freshman to American football at Francis Howell Central High School in St. Charles, Missouri, where he was an all-state defensive back and first team all-league as a junior and senior. As a return man, he was named the special teams player of the year as a senior. He was born in Port-au-Prince and immigrated to the U.S. with his family at age 4.
"I wanted a different challenge, it was something new," Desir (6-1, 192) said during his time with the Indianapolis Colts. "Most of my friends played it [football], so I just wanted to stick around with my friends and just have fun with them. My parents, they didn't like it. My dad played professionally for Haiti. I just took a chance, took a leap of faith and just wanted to play with my friends and try something new."
Now in his seventh season in the NFL after three seasons with the Colts, Desir opted for something new when he signed a free-agent contract with the Jets in April, but he will be the first to admit that his Jets debut last Sunday was hardly world-class.
"No excuses," Desir said on Wednesday during a Zoom call with reporters. "There are some things I need to work on. This week is a new week. I have to get better."
The cornerback was benched during the first half of Sunday's 27-17 loss at Buffalo after two penalties led to Bills touchdowns. On the first penalty, Desir was called for defensive holding on John Brown on a third-and-5 pass that was incomplete. On the next play, QB Josh Allen scampered in from 2 yards out for the game's first score. Later in the first quarter, a pass interference call against Desir gifted Buffalo 33 yards as the Bills marched to their second TD six plays later. In the second quarter, Brown again victimized Desir on a 17-yard collaboration with Allen. Brown and Stefon Diggs each had a strong games while Desir was still on the field.
Jets defensive coordinator Gregg Williams and passing game coordinator/defensive back coach Dennard Wilson had seen enough.
"That was their call at the time," Head Coach Adam Gase said on Wednesday. "I felt it was the best move we could do with where we were in the game. Now we start the week over and the best guys are going to play. That's now how we're rolling. I like the fact we're going to have the competition."
Desir, who missed all of training camp with a hamstring injury, was on the bench the entire second half and it remains to be seen if he will be able to reclaim his starting spot after his replacement, Nate Hairston (a former teammate with the Colts) chipped in with 5 tackles.
"I talked to the coaches and I just have to do better," Desir said. "For me, there were a couple of plays I wish I could have back, especially some of those third downs. It's a couple of plays here and there. All I can do is get ready for the Niners."