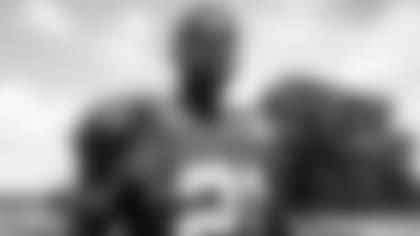 When asked if he wanted to re-sign with the Jets in January, Jets cornerback Morris Claiborne said, "Why leave and pick up to go somewhere else if you've got everything here?"
Seven months later, the seventh-year veteran is excited for Year 2 wearing green and white.
"It's an amazing opportunity we have to be a part of this organization and take it somewhere it hasn't been in a while," Claiborne said. "We're putting the perfect pieces together to make a run in the playoffs and I feel like there are a lot of young guys. There's a lot of growing to do, but I feel like there's one little thing about this team. If you're not in the locker room, you can't really feel it, but I feel like it's a good place to be especially at this particular time."
The Green & White currently have only three players on the roster over the age of 30 in QB Josh McCown, DL Steve McLendon and WR Andre Roberts. The team is particularly young on the defensive side of the ball with franchise cornerstones DL Leonard Williams (24), LB Darron Lee (23) and safeties Jamal Adams (22) and Marcus Maye (25). Claiborne and big-ticket free agent addition Trumaine Johnson are both the elder statesmen of the secondary as 28-year-olds.
Entering his second year in head coach Todd Bowles' and coordinator Kacy Rodgers' scheme, Claiborne is looking to make a bigger impact than last season despite leading the team with 11 pass defenses (one interception).
"Last year it was a lot of new terminology to me, so I was focused on learning my responsibility," he said. "I couldn't learn anybody else's if I couldn't learn my own. This year, I'm working on expanding. I'm studying a lot more not just on myself but on the whole defense.
"I'm trying to get a feel for everybody and know where my safety is going to be at all times. Do I have help here or do I have help there? Learning where I can play differently, where I can press and where I can bail. Right now, that's where I'm at with my game. I'm just trying to evolve into that overall player."
With Adams, Maye, Johnson and cornerback Buster Skrine, Claiborne knows it's a talented unit on paper and believes it could be the best he's been a part of.
"Definitely. Especially with the young talent that we have with our two safeties," he said. "They did a lot of great stuff last year and put good film together, but this year we're expecting even bigger things from them. Being that this is their second year, they're a little more comfortable in the defense and adding Trumaine, we have so much depth on the back end. It's full of guys who can play the position."