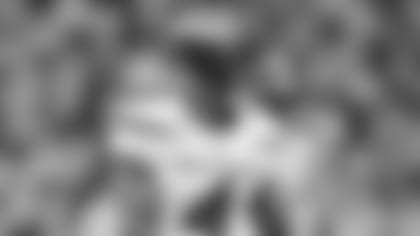 One might look to rock n roll for the perfect analogy to describe D.J. Reed's place in the Jets' defensive backfield. Reed was a prominent member of the Rolling Stones, but the guy across the field at cornerback, the all-world rookie Ahmad Sauce Gardner, owned the mike in his role as "Mick Jagger."
Reed, 26, was among a cadre of Jets signings in free agency and he became one of the keys to the team's impressive turnaround on defense. The native of Bakersfield, CA (he now lives in Calabasas), came East after playing two seasons in Seattle; before that he was coached by Robert Saleh for two seasons in San Francisco (2018-19).
Dipping into the free-agent market is far from an exact science, but Reed made like Keith Richards with an electric guitar and played frenetically every week.
Speaking of what he wants in free agents, Saleh said: "Guys who aren't going to take the money and run, because you know what he stands for. That's such a big part of the entire free-agency process because when players get to that payday sometimes -- not to say they shut it down, but they just kind of take a deep breath. D.J. is not one of those guys, which is why you're comfortable giving guys like that free-agent deals."
Signed to a three-year deal with the Green & White, Reed lived up to, even exceeded expectations by playing 99.8% of the snaps on defense, missing only 1 (he took himself out of the Minnesota game for a play so he could catch his breath), and led the defensive unit in playing time. He also had career highs with 12 pass defenses and 80 tackles. When targeted, Reed limited his opponents' reception percentage to 54.4%, which was the fourth-best in the NFL, and his 79.6 coverage grade ranked fifth according to Pro Football Focus.
"I definitely had games this year where I played my best ball," Reed said after the conclusion of the regular season. "Baltimore [when he had an interception of Lamar Jackson] was one of my better games. You know, I had a couple more games that I played very well, so I guess you could say that this year opened a lot of guys' eyes. A lot of people's eyes, playing on the East Coast. You know, before this, I was playing on the West Coast, so I don't know if people on the East Coast really were watching me play. So, I feel like now people from the West Coast and East Coast know who I am. So, I just got to just keep doing what I'm doing and just keep getting better."
Reed did his part in helping the Jets defense rebound from the 2021 season when it was near the bottom of the league in key statistical categories. In the 2022 season, the Jets were No. 1 in the NFL in an important metric -- holding offenses in their 17 games to TDs on 15.1% of their drives.
"He's brought mentality, he's brought talent," defensive coordinator Jeff Ulbrich said of Reed. "He's brought us a corner that we have a ton of trust in to cover anybody."
Reed said: "Coach U all year was just very consistent with his play-calling. He made it easy for us to go out there and dominate. Getting a bunch of new guys into a system is very hard because you have to figure out how guys play, how guys see things, how guys interpret things because one small error could be a big deal on the field. So once we got through the first couple of weeks, we started gaining trust within the secondary especially. And we started playing very well."
With so much attention directed Gardner's way, it's often easy to forget that Reed also embraced the task of facing some of the top receivers in the NFL, a group that included Tyreek Hill (Miami), Stefon Diggs (Buffalo), Justin Jefferson (Minnesota) and others.
Gardner, the No. 4 overall draft pick in 2022 who was selected to the Pro Bowl and is among the candidates for the Defensive Rookie of the Year Award, said that he would have had an "average rookie season" without Reed on the other side of the field and in the meeting room.
"I know it wouldn't have been as good as it is now," Gardner said. "You know, I probably would have just been the average rookie. Something like that. But D.J. helped me take my game to the next level. You know, he made it to the point where I don't even feel like a rookie. He made me feel comfortable, being able to be on that field or just feel like I can go against any and everybody. That's why people would always say 'it's like, he's not a rookie. He's playing like he's been in his league.' But that's, that's all thanks to him.
Speaking about Gardner, Reed said he was from early on impressed by the rookie's confidence and ability, but what was even more impressive was Gardner's eagerness to learn from a veteran.
"Sauce was already confident, from when I first met him," Reed said. " But just to see how he was playing against receivers. And you know, we were dominating elite receivers week in, week out and seeing the confidence after each week. He's just hungry and eager to learn. And just to see him finish out a whole season playing at an All-Pro level as a rookie, it was unbelievable."
He added: "And I told my bro like, the sky's the limit. You have a rare opportunity to be one of the best DBs of all time, if not the best. Your talent level and in the way you are as far as your eagerness to learn, just don't have that edge. And you know, he definitely understood what I was saying. The sky's the limit for Sauce."
Jets players are on hiatus now, but it won't be long before the band and the Stones are back together (mid-April for OTAs) as they prepare for the 2023 NFL season.