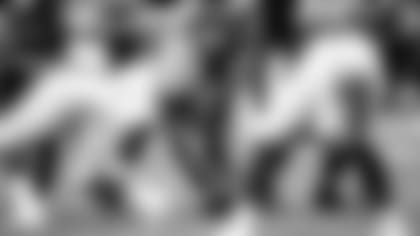 When training camp started, Jonotthan Harrison had set his sights on locking down the starting center position. But the landscape changed when the Green & White signed five-time Pro Bowler Ryan Kalil on Aug. 1st. As the 34-year-old Kalil has gradually increased his workload in practice, Harrison has served as the first unit's pivot throughout preseason game action.
"I just have to keep up with my game," Harrison said recently. "Keep working and whenever my number's called ⁠— and that could be Game 1 or that could be Game 13 ⁠— I have just to be ready."
The Jets had originally scheduled Kalil's debut for this past Saturday when the club matched up with the Saints at MetLife Stadium. But they reconsidered that approach, taking into consideration Kalil had less than a full week of practice in pads under his belt.
"We're 15 days away from the opener, so we feel good he's going to have plenty of time to be ready for Week 1," said GM Joe Douglas two hours prior to kickoff. "One of the reasons we feel good about that, not only is Ryan in a good place, but Jonotthan Harrison has had an amazing camp. His professionalism, his athleticism, his strength, he's been a stud throughout this entire camp. That's one of the main reasons we feel good about what we're doing tonight."
The 28-year-old Harrison, in his sixth season out of Florida, started eight games for the Jets last season. His mindset never changed after Kalil's addition as he kept his head down and maintained a positive mindset.
"The biggest compliment I could give anyone in the room that I coach is you're a pro's pro," said OL coach Frank Pollack. "And what that means is I don't care how many zeroes you have at the end of your paycheck, I don't care how many Pro Bowls you've been to, it's all about how he prepares and works and that guy is a pro's pro. He's been a pro since Day 1 and he's still a pro like nothing has changed for him at all in his approach. He's been a great guy to coach."
Entering the NFL as an undrafted free agent in 2014, Harrison started 23 games with the Colts while appearing in 48 regular-season contests over the course of his first three NFL seasons. His first 19 starts in 2014-15 came at center but he also got playing time at LT, RT, C, RG and third TE in Indy before signing with the Green & White in 2017. The 6'4", 300-pounder makes no bones about it that he is a center, but his position flexibility remains a huge asset.
"Don't get me wrong, I want the world to know that I'm striving to be a center," he said. "Understanding the offense kind of helps me with the versatility, being able to go to either guard or if they need an extra lineman on the field. I've played a little fullback as well."
Douglas, a former collegiate tackle at Richmond, has already bolstered the depth of his offensive line with the signing of Kalil and the trade for guard Alex Lewis. In the Jets' second and third preseason contests, Harrison was flanked by LG Lewis and RG Tom Compton while Kalil played catch-up and Kelechi Osemele (pec strain) and Brian Winters (shoulder) were on the mend.
"A lot of depth, a lot of competition. It's a great group, a great batch of guys," Harrison said. "These are guys who buy into the system and are understanding the system and how Coach Pollack wants things done and how Coach Gase wants things done. It's a great room. Of course that moment is coming up when we're going to lose a few of the guys, but whoever remains we're going to have great depth and we're going to have great continuity throughout the offensive line."
Harrison won't be going anywhere anytime soon. He is perfect fit for the selfless culture Gase and Douglas are instilling at One Jets Drive.
"There are always things I can work on and that's part of being a pro, being able to identify what you need to work on," Harrison said. "Every practice, every day, striving to take that much more of a step to get better."