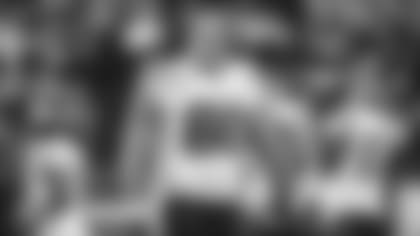 Jets center Connor McGovern is at the pivot of the Green & White's solid offensive line that has helped propel the team two 30+ points and 300+ yards in two straight games.
"It's been awesome whenever we can put up 300 yards of offense," McGovern told team reporter Eric Allen on the latest installment of the "2-Minute Drill." "Obviously, it doesn't feel as good as winning, but to gel together as an offense, it's feeling really good. The next thing is to gel as a team. When the defense has a good game, we have a good game as well. All three phases are going to come together I think, and it is going to happen this week."
This week's opponent -- the AFC East-leading Buffalo Bills (5-3) -- presents the Jets' offense with another highly rated defense with players who have been in the system for several years.
"Buffalo has a huge rivalry with the Jets, you can and always feel that," McGovern said. "The defense is solid, they've played a long time in the same system. Talk about doing the small things right, they have the nuances down. We are going to have to be on our P's and Q's and make sure we do every little thing right to beat a defense like that."
McGovern, throughout his NFL career -- which started at Denver in 2017 -- has been a sort of iron man in the middle of the offensive line. Now in his fifth season, he has played in 16 games in three straight seasons (and all 8 for the Jets this season, and all 16 in 2020). Over his career he said that he's snapped the ball to about a dozen quarterbacks.
"It's kind of how my career has gone, I'm pretty used to it," he said. "They're all relatively veteran quarterbacks [save for the Jets' Zach Wilson] who have taken a lot of snaps. I know Mike [White] hasn't taken a lot in games. I've been working with him in practice. But it really hasn't affected me. As a professional you have to take snaps, it's a confidence thing. I think I've played with 10, 11, 12 quarterbacks. We've handled it well."
White is slated to start on Sunday against the Bills, with Joe Flacco as his backup, as Wilson continues to recover from the PCL injury to his right knee sustained in the game at New England.
"You see it every day in practice, running the scout team, and in camp the year before," McGovern said, referring to White. "He's a guy who has a lot of confidence. In my opinion, it's one of the biggest attributes you need as a quarterback since you touch the ball every play and you're in command of the offense. If you lack any sort of confidence, you're going to have a rough day in the office. Mike doesn't lack confidence, and I mean that in the best way possible. It's not arrogance, it's true confidence. You can tell the way he goes out there that he has supreme confidence."
Through eight games so far this season, McGovern said that he can tell the offense is coming together nicely, being helped along by the development of rookie left tackle Alijah Vera-Tucker.
"Practices are really starting to click, the plays are clicking, but we still can be better in some areas," he said. "The small stuff is starting to come through. To play offensive football all 11 guys have to do every little detail right, the plays are clicking and the little nuances are starting to come through.
"He [AVT] has been awesome. From the first time he stepped on the field you could tell he's an athletic freak. The way he moves and bends how powerful he is, his strike. If you're going to build an offensive guard in the lab, you're pretty much going to build AVT. To see him build confidence within himself, his knowledge and football understanding is amazing. But the only way to build that is playing. Every week he's going to get better and better, and be a special player for a long time."
The Jets (2-6) return to MetLife Stadium this week, where the team has a 2-1 record this season. McGovern said he's juiced each time he gets to play in front of the fans, especially because the building was empty in his first season in green and white because of the coronavirus pandemic.
"The fans this year have been awesome, we definitely missed them last year," he said. "Everyone is extremely loud and it's a huge help for us, especially the defense. It keeps energy up knowing everyone has our back and is really and truly there for us. I can't thank the fans enough for all they do and the energy they bring. It's been a really special place to play this year."
See the Top Practice Images from Wednesday of Bills Week at 1 Jets Drive