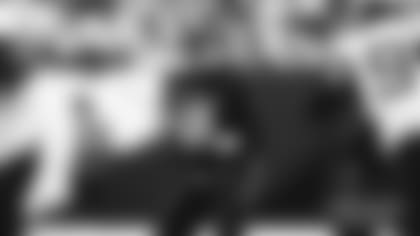 They share the same birthdate, Aug. 3, though Buccaneers legend Tom Brady and Jets rookie Zach Wilson were born 22 years apart. And as they get set to oppose each other for the first and possibly only time when the Jets (4-11) host the Buccaneers (11-4) at MetLife Stadium, Brady (44) continues to dazzle with his Superman routine while the Jets are continuing to work with Wilson (22) on his decisions in and out of the telephone booth.
"I think it's more exciting because of how long he's been doing it for," Wilson said of Sunday's matchup. "I was born in 1999 and his first year [starting] in the NFL was 2001, which is pretty crazy to think about. My entire life that I've known him, he's been in the NFL. Just knowing the fact that he's still going and I'm able to play against him is really cool because obviously I've watched him my whole life. It will be exciting, but the NFL works like that."
Last week, Wilson led the Covid/injury depleted Jets to a close victory over the Jaguars, setting a franchise record with 91 yards on the ground, including a 52-yard scoring run that was the longest scamper by a Jets' signal-caller. Wilson has recorded 4 rush TDs in the past five games and the message from OC Mike LaFleur has been to take what's there.
"You're a better athlete than you're giving yourself credit for albeit even in the NFL," LaFleur said. "It's hard for people to totally understand, but every little thing that these guys do, it's a learning experience for them."
What's nearly impossible to understand is Brady, wearing a pewter cape for a second season, leads the NFL in pass yards (4,580) and touchdowns (37) as he aims to lead the Bucs to a second consecutive Super Bowl win. A longtime Jets' nemesis with the Patriots, Brady is a seven-time Super Bowl champion, a five-time Super Bowl MVP and the NFL's career. He is the only player in league history to throw for 600 TD passes. Superman's work ethic has kept the kryptonite at bay on Florida's Gulf Coast.
"Tom is one of those guys, when you look at the relentlessness at which he works, the work ethic, the study habits, pulling guys with him to go work, pulling guys with him to go throw," Jets head coach Robert Saleh said. "Guy will go on vacation, will call up some teammates to come to his vacation house so he can make sure he's still getting his work in while he's playing with his family, or spending time with family. So, he's an absolutely relentless. So, whatever he does do, I wouldn't be surprised."
Added Wilson: "I think he has a relentless mindset to just be the best and I think that's what he's competing for right now is just how long he can keep going and doing it at the highest level."
While Brady has seen it all and then some, Wilson will encounter one of the NFL's elite defenses coordinated by former Jets HC Todd Bowles. LaFleur wants Wilson to throw "within that phone booth" and "find the soft spots in the pocket" against a Tampa defense that stops the run (No. 3 in the NFL) and is going to bring the heat (T2 in sacks with 44).
"They're going to come off after him," LaFleur said. "If it's there, you take itIf it's not, you make the best decision for our offense whether it's take off, whether it's ditch it and live to see another down."
Since returning to action from a PCL sprain, Wilson has accounted for 7 TDs with and 3 turnovers. The No. 2 overall selection in last April's NFL Draft has thrown 103 consecutive passes without an interception.
"Zach's decision-making has been fantastic," Saleh said. "His off-schedule stuff, he's starting to look natural. I mean shoot, he finally pumped fake a defender and ran around him for a big chunk of yards to just show the natural playmaking ability where he finally looked a little bit loose (Sunday) in terms of running with a purpose, not running just to run. He's coming along, he's getting more comfortable, he's calmer back there. Like I said, he's in a great headspace and it's going to be fun to watch him grow, continue to grow."
The Jets have to be concerned not only TB12, but TB2 because it's the Brady & Bowles package that has been lethal. Last week, the Buccaneers had 7 sacks and 11 QB hits of Panthers signal-callers in a 32-6 trouncing.
"As far as me vs. him, that's the last thing I'm thinking about," Wilson said of Brady. "It's our offense vs. their defense. I almost feel like the game is split. It's not like I can do anything about how our defense does, so I just need to control what I control. I'm 100 percent worried about the defense that we're getting from them. Of course, it would be awesome to say we beat the Bucs and to be able to play against Tom Brady to beat those guys, of course that's the goal. But it's definitely not me against him."
Brady is a legendary competitor, a notorious talker on the field and he recently received a warning from the NFL for smashing a Microsoft Surface during a shutout loss to the Saints. Wilson was praised this week by veteran RT Morgan Moses for not only improving but demanding greatness from his teammates.
"I'm just trying to show my passion for the game and how much it means to me in critical situations when we're out there on the field, just a sense of urgency to get things done and to show those guys in my eyes how important it is," Wilson said. "When they know I'm giving it my all, I know they'll do the same thing for me."
Brady's given it his all for 22 seasons and Wilson won't turn 23 until Aug. 3. Superman is flying higher than ever while the Jets are seeing progress from their rookie inside and outside that phone booth. Sunday's contest promises to be Wilson's most challenging to date.
"I feel like I'm prepared and I feel like we have a good scheme going into it," he said. "I just feel I need to stay focused and be decisive with the ball. It's going to be good for me."
See the Top Practice Images Leading Up to the Sunday's Game Against Tampa Bay