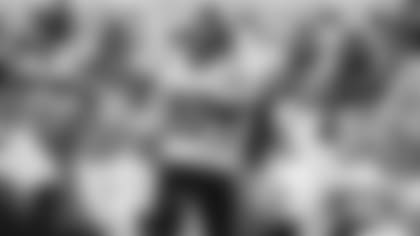 After a season-opening triumph over the Bills, the Jets will head to Denver this weekend still in search of win No. 2. At Mile High, they'll compete against a Broncos team that rebounded from a 21-point deficit at Chicago last Sunday and avoided their first 0-4 start since 2019. Both teams are 1-3 and the Jets, a club that will host the defending NFC champion Philadelphia Eagles before their Week 7 bye, are staying consistent with their approach.
"You never want to make one bigger than the other because that's where you get inconsistency in play, but this is no different," said head coach Robert Saleh. "We're traveling to a Denver team that just came off of a big win. They are feeling really good about themselves, and they are probably looking at their schedule and thinking 'Hey, we got a chance to get right.'. So, we've got to put our best foot forward and get ready to try to win a football game."
This game has been talked about for months after Broncos HC Sean Payton criticized Jets OC Nathaniel Hackett for his work last season as head coach of the Broncos. The inflammable comments, published in a USA Today article written by Jarrett Bell, included Payton taking shots at Hackett and other team executives for a disappointing 5-12 campaign.
"This game is about those guys out there on that field," Hackett told reporters this week. "This game is not about me, it's about me helping them during the week. But I just want the guys to go out there and play a great game. That's all we're looking for and what has happened is in the past. We all move forward — coaches definitely just focus on trying to get the guys in the best positions and that's what we're trying to do right now."
Hackett helped the Jets move forward in their 23-20 loss to the Chiefs last Sunday night. During a primetime contest broadcast on NBC, Zach Wilson had one of his best games as pro while completing a career-high 28 passes for 245 yards with 2 TDs, 0 INTs and a 71.8% completion percentage.
"He understood what we were trying to accomplish within that game, the different plays that we had, the ways we're trying to attack them, and he was unbelievably efficient whether it was throwing the ball down the field, making plays," Hackett said. "He had one great check that ended up being an explosive play and that is something that is very exciting for us to see that he was able to take advantage of. So, you see him grow every game and I think that's what you are looking for is just continually to get better."
The Jets offense found its most rhythm against the Chiefs with five different players having a rush attempt and Wilson connecting to 10 different targets in the pass game.
"The reality of it is when you get to get a couple of drives in and you get a couple of first downs, you get to showcase a lot of different people," Hackett said.
The Broncos defense has yet to find its stride, having allowed 20 offensive TDs, which is the most through four games in the Super Bowl era. They are last in several categories including points allowed (37.5), total yards allowed (46.15), rush yards yielded (176) and opponent passer rating (133.4). Speaking of passer rating, Broncos QB Russell Wilson is 3-0 vs. the Jets with 9 pass TDs, 1 INT and a 132.6 passer rating which is the highest in franchise history of any opposition QB.
Hackett knows the Broncos personnel well, but the says that won't be too significant late Sunday afternoon.
"It's a chess game," he said. "They know that we know that we know that they know that we all know what we know. So, you have to take that with a grain of salt. There are always a couple of things you want to throw if you have maybe a 95 percent% but we also had to get ready for our game, too."
Hackett and the Jets were excited about Wilson's performance in Week 4, but consistency is the key in the NFL. Saleh said after last week's heartbreaker that, "If [Zach] plays like that, we're going to win a lot of football games."
Hackett said: "For him, it's just now let's go stack it up. Just carry that confidence over and trust your teammates because a lot of the stuff he did on Sunday night was trusting his teammates with those back-shoulder throws and being aggressive with his ball placement. I thought his teammates did a great job making plays, too. For him, obviously I would imagine, empathetically speaking for myself, affirmations are great, but now the key is to carry it over and do it again."
Although the Jets have faced first-half double-digit deficits in each game to date, they easily could be 3-1 if for a couple plays (and flags) were flipped against the Patriots and Chiefs. But they have time to make up some ground in an AFC that has 12 teams with 2-2 and 1-3 marks entering Week 5. Hackett, who could have collected a check from the Broncos and sat the season out on a beach somewhere, is up for the challenge that continues this week at Mile High.
"Love this game," he said. "You ask yourself why do you do this? You do it for the relationships, you do it to be able to be with those guys and watch them have success out there, watch Zach grow like we're all talking about and seeing him develop as a quarterback is why we do this. It's why anybody teaches. Why do teachers teach? They love seeing the kids grow and gain knowledge and become better people. I think that's why I do it and I think it's a great decision that we made to come to this great organization and help everybody get better."