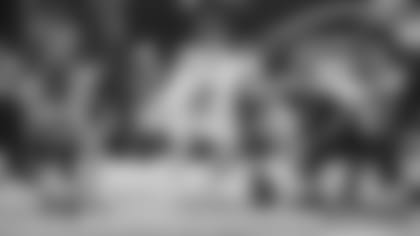 Zach Wilson's hometown, Draper, UT, is about an eight-hour drive from Empower Field at Mile High in Denver, CO. The Jets rookie quarterback, who was intercepted four times in a home-opening loss to the Patriots, will look for a reversal of fortune Sunday in the Mountain West against a Broncos team looking for a third consecutive win to start the 2021 campaign.
"I haven't thrown four picks in my life, ever in a game," said Wilson, who will be supported in the stands by a family contingent this weekend. "Obviously I have to clean that up and take care of that, but it's just being able to fight through that adversity every single week and how can I just keep getting better and better. I knew it was going to be challenging coming here and I knew there were probably going to be things I would have to adjust and just keeping getting better at and that's part of it just like last game was. It's how can you move on and get ready for this next one.
After a rocky ride against the Pats, the Jets continue to direct Wilson to play the percentages. He is an electric player who has the potential to light up the airwaves, but turnovers in the NFL are a third rail.
Jets HC Robert Saleh said: "That 'All Gas, No Brake mantra, for him, is be boring. It's not about being electric and making the plays. You just trust that if you stay ahead of the chains and if you stay within yourself and you play the game of football and keep the team in an advantageous situation, other teams will panic. Other teams will force the issue and that's where you can take advantage of your shots and your explosive plays."
The Jets have totaled just 20 points in two games, but it's not like Wilson hasn't gotten explosive plays down the field. He has six completions of 25+ yards, tying him for third in the NFL with Tom Brady, Russell Wilson and Baker Mayfield. The Jets run game also emerged last week, totaling 152 yards and averaging 4.9 yards a carry against a stingy Patriots defense.
While Wilson and the offense have yet to put it all together for four quarters, the team's confidence in their gunslinger has not wavered. The sense is he's just getting started and won't be shaken by an early cage-rattling.
RT Morgan Moses said: "We have another great defense this week in Denver. The key is not to make the same mistakes and I think he has that pedigree, the want-to to get better. I think the guy is a phenomenal talent, I think he's a phenomenal leader and I think he's a phenomenal football player. Just because you see the things, the detailing he does throughout the week in practice to get him that step better."
The Broncos have stepped up defensively, posting strong numbers across the board: No. 3 overall (251.5 Yds/G), No. 4 rush (67.5 (Yds/G) and No. 5 pass (184.0 Yds/G). Last week, Jaguars rookie Trevor Lawrence, taken one pick ahead of Wilson, went right down the field against the Broncos with a drive that culminated with a 25-yard scoring toss to Marvin Jones. But the Jags didn't score an offensive point after that and Lawrence finished 14-of-33 for 118 yards with 2 INTs.
The Broncos defense, a unit that has allowed a 51.4 comp pct (lowest in NFL) and 65.5 passer rating (3rd-lowest), will welcome encountering a rookie QB for a second consecutive week. Edge Von Miller, who has three sacks this season and 109 in his career, can turn the heat up and the Broncos secondary, despite missing CB Ronald Darby, could be one of the best backfields Wilson will see in 2021.
"The mentality for us is we don't want to be the team that gets him out of his slump," said Broncos S Justin Simmons of Wilson.
In 30 games at BYU, Wilson threw the ball 837 times and had 15 interceptions. Entering his third NFL contest, Wilson has 70 pro attempts and five interceptions. Offensive coordinator Mike LaFleur said that Wilson didn't have a problem turning the page from the Patriots.
"He's unflappable, he really is," LaFleur said. "His mindset hasn't changed. We can all relate, you go back to when you didn't have your greatest game, you just can't wait to get back on the field. It can't come fast enough."
The Broncos have a few numbers on their side entering this matchup, but Jets rookie QBs are 3-0 in their next start after a game with 4+intercepitons. Wilson, who declared himself fit despite a nagging groin injury, continues to emphasize calculated aggression. If something isn't there, the right move might be just throwing it away and resetting for the next play.
"Super anxious," he said when asked about what's ahead. "It's kind of what the coaches said too, just excited to move on, prepare for the next opponent, learn from all of our mistakes and how can we just apply it for this next week."
Broncos QB Teddy Bridgewater, a Jet for a few months prior to the 2018 season, is just the third QB in the last 25 seasons with a 75+ completion percentage, 2 pass TDs & 0 INT in each of his team's first two games of the season. He's been more than efficient and the Jets believe it's only a matter of time when things start clicking for Wilson.
A"We have the coaches to put him in the right position," said LB C.J. Mosley. "We have the players, as far as the offensive linemen, that's ready to protect and that want him to be great. And because we want him to be great just as much as he wants to be great. Like I said, nobody said it was going to be easy, nobody said it was going to click the first game, second game, but when it does click, he's going to show why he was picked second overall."