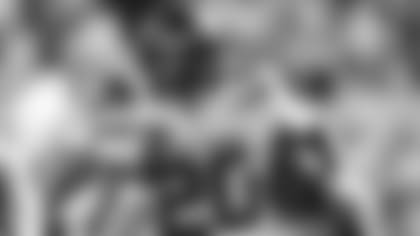 Breece Hall's promising rookie season has come to a conclusion after he sustained a torn ACL in the first half of the Jets' 16-9 win at Denver on Sunday. He was ruled out for the season after being evaluated on Monday.
"It's always tough," Saleh said during his Monday press conference. "There's two potential Pro Bowlers [Alijah Vera-Tucker was also ruled out for the season with a triceps tear]. We had this experience in 2020 in San Francisco when we visited the organization and lost a handful of guys for the season. It's the NFL, next man up. M.C. [Michael Carter] proved he can carry the load, Ty Johnson did a nice job. And with the O-line, it's been that way all year, guys shuffling in. I have a lot of faith in the guys who stepped in."
Sunday's game started brightly for the big and fast running back from Iowa State. Midway through the first quarter, Hall took a pitch from QB Zach Wilson, cut to his left, and slipped between blocks from WR Corey Davis and OL Duane Brown. From there, Hall veered slightly to his right, setting up a key block by WR Denzel Mims and motored past a diving Denver S Justin Simmons to a 62-yard TD jaunt. He was on pace for his second straight 100-yard rushing game (he had 72 yards in less than one quarter), something that hasn't been done by a Green & White rookie in the regular season since Clark Gaines in 1976. The TD gave the Jets a 7-0 lead.
But Hall was hurt on a second-quarter play when he appeared to fall awkwardly after being tackled by Broncos' defenders Patrick Surtain II and Jonas Griffith near the Jets' sideline. He was helped from the field by the team's medical staff and attempted to walk to the locker room, but instead was carted from the Empower Stadium at Mile High field.
Asked after the game about Hall's prognosis, HC Robert Saleh said: "Breece, it does not look good, the knee is not good. I'm going to stay as optimistic as I can, but yeah, he's a heck of a football player."
On Monday, however, Saleh's optimism turned to the realization that the 5-2 Jets, who face New England on Sunday at MetLife Stadium, will be without the player the Jets' head coach has called a "home-run hitter."
That has never been more apparent than in the past two games, both victories on the road. At Green Bay, Hall notched the first 100-yard game rushing of his NFL career when he amassed 116 yards. At Denver, he ended up with 72 rushing yards, which includes the 62 yards he pocketed on the TD run.
"Breece is obviously great with the ball in space," quarterback Zach Wilson said after the game. "You see the way he hits it, but I don't think anyone's talking about the reach on the edge there by the tackle, or what an amazing block by Mims and whoever else was out there."
Through seven games this season, which includes four-straight victories and four wins on the road, Hall had amassed 681 yards (463 rushing on 80 carries, 218 yards on 19 receptions) and 5 touchdowns on those 99 touches. He currently ranks 12th in receiving yards per game (31.1), while his 5 TDs are tied for the 11th most in the league. Additionally, only one running back (Jacksonville's Travis Etienne) has produced more yards per touch than Hall (6.88) with at least 25 touches this season.
With Hall out for the season and facing a long and arduous rehabilitation, second-year man Michael Carter is expected to step into the featured role, backed up by Ty Johnson and Zonovan "Bam" Knight.
"I prepare all the time like I'm the only back on the team, and understand I'm not," Carter said. "I prepare myself for games like that, my preparation is not going to change. I'm going to be on the field a bit more than I have been since the season started, but not too much is going to be changed for me."
Back in April, the Jets made a trade with the Giants to select Hall, who was considered to be the best all-around running back in the NFL Draft. To get Hall, the Jets traded pick Nos. 38 and 146 (fifth-round) to the Giants for the No. 36 overall selection.