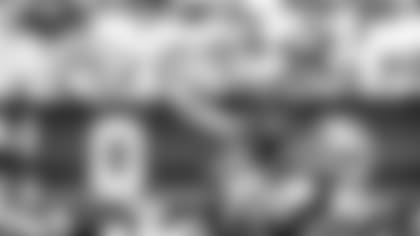 Much has changed since the New York Jets last played a football game. The Green & White's Week 17 triumph over the playoff-bound Bills in December preceded some major roster changes including one of the most significant trades in franchise history, a virtual spring during a pandemic and a summer with no preseason games. The Jets return to western New York on Sunday to face the Bills, kicking off a most unprecedented season with high hopes and a bright perspective largely because of 23-year-old QB Sam Darnold.
"I don't think he has a limit," TE Chris Herndon said of Darnold this week.
Head-to-Head
Darnold has spent time during each of the past couple of offseasons training with Bills QB Josh Allen in Dana Point, Cali., under the tutelage of Jordan Palmer. They are forever linked since Darnold, a former USC star, was taken No. 3 overall by the Jets in the 2018 draft while the Bills took Allen, a strong-armed Wyoming product, five picks later.
"For the most part, we keep the rivalry as real as possible," Darnold said. "We try not to get into it at all, especially during game week. We might share some thoughts every now and then in the offseason, but nothing crazy, never given secrets away."
With Tom Brady out of the AFC East, the question is can another team end what has been the Patriots' two-decade stranglehold on the division. If the Jets and the Bills want to take another step forward, their quarterbacks must continue to ascend. They each progressed in Year 2 as Allen made his playoff debut and Darnold threw for 13 TDs and just 4 INTs in the final eight games.
"When we go out there, I'm not playing Sam Darnold," Allen said. "I'm playing the New York Jets defense and he's playing the Buffalo Bills defense. As cool as it is to play against him, we're worrying about what we're going to see on defense and what they can do to us there. But it will be fun, it's always good playing against guys that you know."
The numbers suggest that it hasn't always been good for Allen in his encounters with Darnold and the Jets. Against the Green & White, Allen has a 1-2 mark with a 58% completion percentage and 4 INTs with just 1 pass TD. Conversely, Darnold is 2-1 against the Bills and he's hit on 66% of his tosses with 3 TDs and 2 INTs.
"I'll say this about Sam, as a thrower I don't know if you can find somebody that spins the ball more than he does," Allen said of Darnold on Sirius/XM NFL Radio. "He spins it so well that the ball is really shaking."
Comfort Leads to Speed
The Jets remain a work in progress, but Darnold should benefit from a new-look offensive line and the Jets quietly appear well-stocked at running back and tight end. There are questions at receiver, but this isn't a group devoid of talent. Jamison Crowder remains one of the top slot targets in the NFL, veteran Chris Hogan has quickly developed a rapport with Darnold, and both Breshad Perriman and Denzel Mims are two electric runners who just returned to practice and can take the top off any defense.
"You can tell he is a lot more comfortable out there and that helps him make his calls faster, make the right decisions faster and just allows him to play free like he usually does," said Herndon of Darnold, who has system continuity on his side for his first time as a professional.
After the trade of S Jamal Adams to Seattle was followed by fellow Pro Bowler C.J. Mosley's election to opt out of the season because of family concerns, many prognosticators wrote the Jets off. They haven't reached the playoffs in nine years and only one of those campaigns (10-6 in 2015) did they have a winning record. But the Jets played excellent team defense last year under coordinator Gregg Williams, they like their top three safeties and there is a sense that Marcus Maye could be poised for a breakout season. Brant Boyer has consistently fielded one of the NFL's top special teams units and the Jets, positioned to continue to help Darnold with four first-round picks over the next two drafts and financial flexibility to boot, believe their young QB is just getting started.
"He's been in the league for three years and he's 23 years old," said Jets GM Joe Douglas. "He is going through growth much sooner than most quarterbacks his age have gone through in the National Football League. Just watching him and his ability to digest Adam's [Head Coach Adam Gase] playbook and operate at a quicker pace, just that half-second quicker decision and quicker release, you see that in training camp and it fires you up. Just watching him grow within the offense and also watching him grow and mature as a person and as a leader and not being afraid to have tough conversations when he has to — that's just part of a 23-year-old quarterback becoming a franchise quarterback and maturing into that role and taking on more and more responsibility."
Prepared for the Unknown
Although Darnold won't have homefield advantage Sunday against his friend, Allen won't have tens of thousands of Bills Mafia inside Bills Stadium either. The unknowns are seemingly endless heading into this season-opener, but the Jets are confident they have a signal-caller who is going to take them to places they haven't been in a long time.
"We've kind of talked about maybe adapting to the way things go on Sunday because no one is really sure how the game in terms of communicating and how loud it's going to be," Darnold said. "No one really knows how that's going to go, so we just have everything prepared and we are going to handle whatever crowd noise or what they throw at us. We are going to figure it out kind of on the go, but we are definitely going to be prepared for whatever."