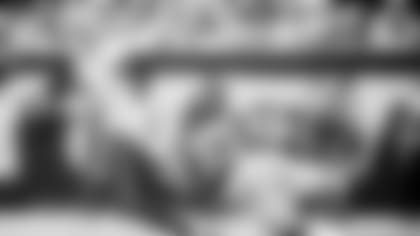 Don't tell Jamal Adams the Jets will play a meaningless regular-season finale Sunday in Buffalo. While the Bills are locked in as the AFC's No. 5 seed and the Jets won't play in the postseason, Adams will treat this divisional battle like a playoff game as the Green & White go Buffalo hunting.
"We're coming after them. We're hunting at the end of the day," Adams said. "It's a playoff game for us. We hear they're going to start their starters. That's good. We're looking forward to the matchup. I can tell you that."
The Jets and the Bills opened the season against each other at MetLife Stadium on Sept. 8 and the Jets were in firm control with a 16-0 lead in the third quarter. But then as a harbinger of things to come, starting ILB C.J. Mosley, who had registered a pick-6 and fumble recovery in his first game in green and white, went out with a groin injury in the third quarter. The Bills stormed back to claim a 17-16 decision and Jets quarterback Sam Darnold was diagnosed with mono a couple of days after the defeat. Only the Dolphins (83) and the Redskins (73) have used more players than the Jets this season (72), but New York's AFC representative has rebounded from a 1-7 start and hopes to complete a 6-2 second half.
"We have good leadership in the locker room," said veteran DL Henry Anderson. "We have the right dudes and everybody in the locker room had the right mindset, even through that tough stretch early in the season. Banged-up, we had a lot of players hurt every week and then we just had guys coming in every week stepping up and when it was their time to play, coming in at a high level. Early in the season, we didn't have certain things go our way. We knew if we just kept our heads down and kept working that certain things would start clicking. The last few weeks, we've had success."
The Jets have done a good job all year of staying in the moment. After Darnold missed three games early, they rebounded in his return with a victory over the Cowboys. Left for dead following a 26-18 defeat to winless Miami, they ripped off three consecutive victories while scoring 34 points in each. Then after a loss to another winless foe — the Bengals — upset the Jets, they rebounded to claim two of three including last week's gritty 16-10 decision over a Pittsburgh club with playoff aspirations.
"We'll probably have time to look at big-picture-type things when the season is over, but for right now I personally need to just focus on the game coming up against Buffalo," said Coach Adam Gase. "This is a team that we lost to by one point in the first game of the year, and obviously they're headed into the playoffs and we're not. We need to just do a good job of finding a way to win a division game."
The Jets finished with a 5-3 mark at home, but they are 1-6 on the road and their sole division win against the Dolphins came at MetLife. After being limited to 260 total yards and converting on 27% of their third downs (4-of-15) against Pittsburgh in nthe Week 16 victory, the Jets will face a Bills defense ranked No. 2 in scoring (16.4 Pts/G) and No. 3 in both yards (300.1 Yds/G) and pass defense (195.9 Yds/G).
"They have a really good defense, top defense in the NFL," said second-year signal-caller Sam Darnold. "We just have to continue to come out and do our job, take advantage of some of the opportunities that we get in the game. I think a big thing for this game, really every game but especially this last game we play, is going to be eliminating the negative plays, continuing to move the ball forward and not have any penalties or really any negative plays. That's what this defense and what this team we're playing on Sunday thrives on. We just have to limit those and make sure we go out there and execute the way that we know how."
Since Week 10, Darnold has connected on 61% of his throws with 13 TDs and 4 INTs. The 22-year-old has a completely different understanding of the system than the under-the-weather Darnold had in September when completing 68.3% of his balls for 175 yards with 1 TD. The Bills sacked him four times and held the offense to just 6 offensive points.
"He's seeing things that he might've seen earlier in the year and it looks cleaner to him now," Gase said. "It slows down, he knows what to do. He knows what his problems are and he knows what his outs are. His communication has improved so much from, like, we go back, especially it's kind of weird playing a team Week 17 compared to Week 1."
While the Bills can't improve their playoff standing, Buffalo Coach Sean McDermott intends on playing most of his starters including quarterback Josh Allen. Darnold, the No. 3 overall selection in the 2018 NFL Draft, and Allen, taken four spots behind him, remain good friends and they figure to battle in the AFC East for many years to come.
"It definitely means a lot to us," said C Jonotthan Harrison. "Despite the circumstance of our season, it still is a divisional opponent and it is Buffalo. These are guys we see twice a year, so it's our last game. It's Buffalo. Let's end it with a bang. We know it's going to be tough conditions. We're up in their territory and we know it could be a lot colder than down here, but hey, all we can do is strap up and go out there and go battle."
With a win, the Jets would finish their second consecutive quarter with a 3-1 mark. Turbulent early times created too big a hole to climb out of, but they showed their grit down the stretch.
"I think you have to look at everything. I love the fact that our guys kept battling, kept practicing hard, kept trying to find a way to improve and flip it around," Gase said. "I hate it for our fans and everybody, there were just high hopes going into the season. We didn't play very well at the beginning of the year. We had too many negative things happen and we didn't find a way to win games. We got going too late. That's kind of what put us in this position."