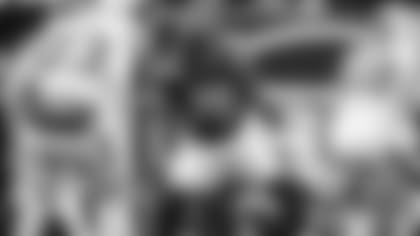 The New York Jets head to Buffalo this weekend for a taste of the big moment, but they hope this is a brief stop on a destination somewhere far beyond Western New York. The Jets (4-12) and the Bills (10-6) will tango in the frozen land where Buffalo roam with the backdrop of a sold-out crowd hungry for a second consecutive AFC East championship.
"It's going to be everything you dream of as a kid in terms of going into a stadium and it just being as live and as juiced up as it's going to be, and we're going to get their absolute best shot," Jets head coach Robert Saleh said. "We got to give it right back to them, we got to make them earn it."
The Jets made the defending Super Bowl champion Buccaneers earn it last week and while strides were taken, they didn't land the finishing blow in 28-24 loss as Tom Brady authored yet another incredible finish. While the Jets have defeated two division winners at MetLife Stadium, the Tennessee Titans and the Cincinnati Bengals, and took the Bucs down to the wire, their lone road win came at the 4-12 Texans on Nov. 28. Buffalo is 10-1 inside the AFC East since the 2020 season and will guarantee itself at least another home game with a win on Sunday.
"If anybody hadn't been in any kind of playoff environment, they'll 100 percent get it there," Team MVP C.J. Mosley said of the youthful Jets. "Hostile environment, cold weather, January now, so definitely playoff-type football. They're going to come out with their physicality, they're going to come with everything that they have because they're trying to get to a certain place and we're going to do the same thing because we're trying to prove that we belong in the place that they are now."
Back in Week 10, the Bills trounced the Jets, 45-17, as the visitors got huge efforts from QB Josh Allen (366 yards passing, 2 TDs) and WR Stefon Diggs (8-162-1TD), and intercepted Mike White four times. Zach Wilson was out of the lineup due to a PCL sprain, but the rookie QB has been a different player since his return action. Over his last five starts, Wilson has accounted for 8 TDs and 3 turnovers. He has thrown 136 consecutive passes without an interception and his 234-yard, 1-TD effort against the Bucs was his best outing to date.
"Last week wasn't a win, but I think it was a win in some areas for us -- the improvement all the way around, the execution, the want-to, the fight all the way around the team, the passion throughout the locker room, how bad guys want it," Wilson said. "It's just getting better every single game. Now things are starting to come together and we just have to build on what we did in that game and just be able to finish there at the end."
Wilson will have a lot to deal with in Buffalo, starting with the challenges of the elements as the forecast calls for winds from 15-25 MPH plus rain and snow. The crowd will try to limit the verbal communication between the strong-armed passer and his teammates. Then factor in he'll face a defense that ranks No. 1 overall, No. 1 in pass defense, No. 2 in scoring and No. 2 in third-down percentage and boasts perhaps the NFL's top safety tandem with Micah Hyde and Jordan Poyer.
"I think everyone can see how much more comfortable and how much more free he's playing," offensive coordinator Mike LaFleur said of the rookie signal-caller. "Free just doesn't mean going around and playing street ball – it means running the offense. And when it's not there, making the best decision for the unit in that moment."
After stepping up to the moment last week against the greatest QB ever to do it in Brady, Wilson will share the field Sunday with Bills QB Josh Allen, one of three QBs in NFL history with 120+ pass and rush TDs (132) and 30+ wins (38) in his first 4 NFL seasons. Allen has totaled 40 TDs and 4,868 yards this season although he has thrown a career-high 15 INTs. Wilson's first year passing stats are similar to Allen's, a Wyoming product who was the No. 7 overall selection in the 2018 NFL Draft. After going 5-6 as a rookie, Allen has compiled a 33-15 mark in 2019-21 and next week he'll start in his fifth playoff game.
"The biggest one is just keep working," said Wilson, the BYU product who went No. 2 overall to the Jets last April, of Allen's progression. "Don't get gun-shy, just keep playing the game and let your instincts do their thing and play within the offense and trust the guys around you and just have fun with it. Play ball and it's going to get better with time."
The young Jets got better with time this season as Wilson and five others made up for the NFL's only six pack of rookies to appear in 400 snaps on offense or defense. With financial flexibility to make prudent deals plus nine draft picks including possibly two in the top 10 and four in the top 40, the Jets will continue to build this offseason on what they started in 2021. But first up for Saleh's club is a date with the playoff-bound Bills and another valuable experience for a group that hopes to be in a very different position next winter.
"It's just a really cool opportunity for us to go in there and feel the energy, feel the juice, feel what another team, who is playing for a division, feels like," Saleh said. "How it feels to lean on them, how it feels to try to separate, how it feels to tackle them, how it feels to be tackled by them, the urgency at which they're going to play. It's a tremendous opportunity to grow a lot in this moment and it's something that I'm really looking forward to our guys to answering the bell on."
See the Top Photos as the Jets Prepare for Sunday's Game at Buffalo