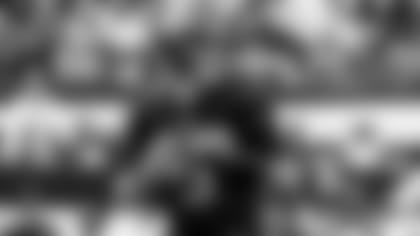 From obscure backup quarterback to the talk of more than a few in town, Mike White's football life has dramatically flipped since taking over for injured rookie QB Zach Wilson on Oct. 24 in New England. Wilson, who will make his third NFL start for the Jets (2-6), against the Buffalo Bills (5-3) at MetLife Stadium on Sunday, was serenaded with Mike White chants by the Green & White faithful the last time he played at home in a 34-31 triumph over the Bengals on Halloween.
In three appearances this season, White has hit on 72.7% of his passes for 702 yards with 5 TDs and 4 INTs. After a historic effort against the Bengals, White was well on his way to another strong performance against the Colts before he injured his right arm on a follow-through as he connected on a TD pass to Elijah Moore. He cleared all medical tests early this week and will again get the ball as Wilson (PCL sprain) continues to work his way back.
The "Mike White" chants have carried on at One Jets Drive for weeks.
"The only thing that's really changed is you walk in the locker room and these guys won't stop chanting Mike White," he told reporters on Thursday. "I told them it's got to stop at some point guys."
The Jets will reach the midway point of their season at halftime Sunday. They are searching for answers on defense and have played three quarterbacks in the past two games and will encounter the NFL's top defense, but White has a clear mind.
"Everybody has to have an unbelievable amount of confidence in themselves and that's the only way you can play this game in my mind. I'm convinced," White said. "You can't go out there not so sure of yourself because that's when you'll mentally lock up and you'll do things that aren't in your realm. So I think everyone on an NFL field needs to have 100 percent confidence in themselves."
White will lead a Jets offense that hopes to get it done against a Bills outfit that ranks No. 1 in total defense (262.6 Yds/G), scoring (14.8 Pts/G), passing (177 Yds/G), third-down conversion (30.3%) and red zone (40.9%).
"He's cool out there in the huddle," said TE Ryan Griffin this week of White. "He's very poised. Nothing could faze him. Just because it was his first game action, he's been in preseason games, he's been in intense practices, he's made great throws under duress. This guy has seen it all. The fans and the media might not see it because it's not on Sundays. He's ready and he's ready to show the world what he's got."
Defensive coordinator Jeff Ulbrich added: "Mike has that moxie, that confidence, that swag that is uncoachable. He just has it."
In that win over the Bengals and a loss to the Colts in Weeks 8-9, the Jets offense totaled 64 points, 997 total yards and 62 first downs. After White torched the Bengals for 405 yards and 3 TDs, Josh Johnson came on in relief against the Colts and threw for 317 yards and 3 TDs. Without top target Corey Davis due a hip injury, the Jets had 10 different pass catchers against the Bengals and then followed that up with 11 in Indy.
"I operate on a week-to-week basis and this week I'm the quarterback for the team, so my job is to be prepared and go out there and help execute the offense," White said. "And next week, we'll cross that bridge when we get there. Whatever job the team gives me, that's what I'll do to the best of my ability."
A fifth-round pick of the Cowboys in 2018, White was waived by Dallas in 2019 and picked up by the Jets. He was cut four times last season and brought back each time on the practice squad before beating out James Morgan, a fourth-round pick of the Jets in 2020, in training camp for the backup spot behind Wilson. White, 26, had never taken an NFL regular-season snap after passing for 8,540 yards and 63 TDs at Western Kentucky in 2016-17, but he held steady when his pro career started with a number of detours.
"If you lack any sort of confidence, you're going to have a pretty rough day at the office," C Connor McGovern said. "Mike White doesn't lack confidence and I mean that in the best way possible. It's definitely not an arrogance, it's a true confidence, and you can just tell by the way he goes out there and carries himself that he's extremely confident."
White has been rewarded for his patience before. Although White led the NSU University School (Fort Lauderdale, FL) to a 3A state championship, he didn't become a starter until his senior year. Comfortable with the ball in his hand, White had a 9-2 record his junior season on the mound with a 0.43 earned run average, and many thought he had pro potential in baseball.
"He's pretty confident in everything he does," Jets offensive coordinator Mike LaFleur said of White. "I know he goes out there on a golf course in the offseason and he feels like he's going to take everyone on. That's just kind of the way he feels in all sports. In baseball, he was one of the better players in the country. I think everything he's done in his life to this point, he's been pretty successful and he believes no matter where he's at — he's going to get it done."
While White deals Sunday, Wilson, the No. 2 overall pick in April's draft, will continue to support his friend after telling reporters his time will come. White's time is now and he's earned his shot.
"I think it's awesome. It doesn't always happen where a young man has his opportunity and he has success," head coach Robert Saleh said. "But nothing is cooler to see somebody have an opportunity, work through it, go through the struggles and to take advantage of those opportunities. Not only show that he belongs, but to show that he can start in this league. I think that's what is always the greatest aspect, that's what I love about this game. That's kind of what I love about this country too. When someone gets an opportunity, whether or not you take advantage of it is on your shoulders, so kudos to Mike and what he's been able to do over the past couple of weeks. Now it's just a matter of creating consistency.
"You've shown you belong, now can you take that next step?"