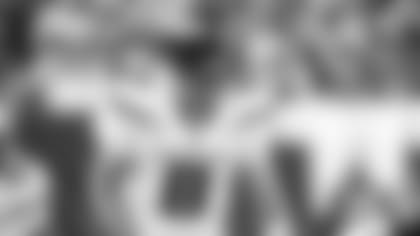 Since the day Aaron Rodgers declared his intention to play for the New York Jets, the Green & White have remained in the national spotlight. Now almost six months later, the Jets will kick off a most-anticipated season on Monday night against the Bills in front of a nationally televised audience.
On an evening where the Jets will pay tribute to the fallen heroes and first responders on the 22nd anniversary of 9/11, New York's AFC representative will begin its 17-game journey with great hope. Equipped with a top-five roster, Rodgers will lead his new team against a Buffalo squad that has claimed the past three AFC East championships.
"When you got a great defense, which like I feel like we do, I think you just have to play how you have always played: be smart," Rodgers said this week. "You can take some chances when they are there, but it is all about a percentage game and trying to find the highest percentage match up every single time. But again, look we are 0-and-0 just like everybody. It will be two teams, it will be different after a night, but you don't know what is going to happen."
Jets Roster Would 'Challenge Anyone'
The Bills have made four consecutive trips to the playoffs, battling with the AFC's elite, but couldn't overcome the Chiefs in 2020 (conference championship) and '21 (divisional round) before being turned away by the Bengals last January (divisional round). They know what quality teams look like and the Jets have their attention.
"They've put together a roster that would challenge anyone out there," Bills HC Sean McDermott said of the Jets, "with speed, size, a number of high picks over the years. Their roster is outstanding."
The Jets aren't a laughing matter although HC Robert Saleh did refer to Will Ferrell-John C. Reilly's "Step Brothers" this week when talking about the opener.
"It's not the Catalina Wine Mixer — it's Week 1," he said of what was billed as the biggest helicopter leasing event in the Western Hemisphere. "Whether we win or lose isn't going to make or break the season. It's Monday night, it's why we practice the way we practice, it's why we try to be intrinsically motivated. It's why we focus on the moment, so that when we do get to those you treat everything like a championship moment. So, when you are in a championship moment, it's just normal."
A Play Is Never Over
The Jets split with the Bills last season as their defense consistently hounded Bills star QB Josh Allen, sacking him 8 times and holding him to a 56% completion rate with just 1 TD and 2 INTs. The Jets are targeting more takeaways this season and Allen, who was 8-0 in games he had zero giveaways since 2021, led the NFL with 19 giveaways in 2022.
"Josh is elite when the ball is in his hands, anything can happen," Saleh said. "A play is never over, there are always two plays. The first play in progression, and the second play when he is running around and making things happen."
Allen and Rodgers are primetime performers as the Bills QB has the NFL's highest PT passer rating since 1970 at 107.6 while the Jets' future Hall of Famer is right behind him at 106. Since 2020, Rodgers has the highest pass TD-to-INT ratio at 111-21. He'll encounter a stout Bills defense that will miss DE Von Miller, but is expected to have CB Tre'Davious White and safeties Micah Hyde and Jordan Poyer together for the first time since 2021.
"If you are doing well on third down and doing well in the red zone, everything kind of takes care of itself," Rodgers said. "But I do set little personal goals. I don't share them publicly, but I am not looking at this like I have to bounce back or do anything. I just got to play the way I know how to play — I worked my a** off the last six months to try and put a better product on the field than last year and I expect to."
Go Take Care of Business
Rodgers came to New York to win a second championship after an incredible 15-year run as the Packers starting QB. He saw great talent on both sides of the ball featuring the likes of Garrett Wilson, Breece Hall, Dalvin Cook, Alijah Vera-Tucker, Quinnen Williams, C.J. Mosley, Sauce Gardner and D.J. Reed and he planted his flag with a team that is poised to the end the NFL's longest playoff drought.
"I think the sky's the limit," Cook said. "We could sit here and talk about it, but I feel like a lot of these guys in the locker room know that just us sitting here talking about it won't get it done. We have to go out there and take care of stuff on the green grass come Sunday, Monday, Thursday, whenever we play."
The Jets no longer work in the shadows. The lights will remain on Rodgers and this group until the season's final whistle. Their regular-season trek begins Monday night against the Bills.
"There is a lot to be proud of over the last two years in regards to what has happened with the organization," Saleh said of a group that embraced a youth movement in 2021 and increased its win total by three games in 2022. "But again, it still comes down at the end of the day to winning football games. Up to this point has been awesome — we got a hell of a climb to have over the next couple of months, so hopefully it works out the way we are all hoping."