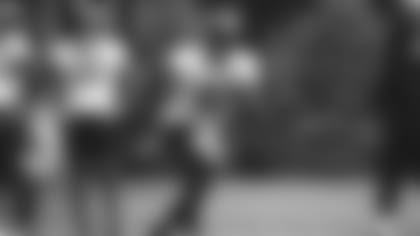 Following a weekend off, the Jets returned to the practice field Monday in Florham Park. After reporting to training camp more than six weeks ago, the Jets will kick off their regular season against the Bills next Monday night at MetLife Stadium.
"Call it a bonus Monday," HC Robert Saleh told reporters. "We haven't played football in a few days, so just go out and play football. It's just a normal practice but with obviously (an) emphasis on Buffalo."
The Jets are in good health with the rigors of a 17-game campaign on the horizon. Second-year RB Breece Hall, who returned to practice on Aug. 15 after sustaining an ACL tear in Week 7 at Denver last season, was the only player that Saleh said wouldn't participate in team drills on Monday.
"We're in pretty good shape," he said. "We're not going to practice Breece , but there is nothing wrong with that — it's just part of the maintenance program."
Hall will be joined in the offensive backfield by former Vikings RB Dalvin Cook, who started practicing with his new club on Aug. 29 after offseason shoulder surgery and the birth of his child, and third-year pro Michael Carter plus rookie Israel Abanikanda.
"I don't know if I want to call it a snap count, but we're going to be smart with them," Saleh said of Hall and Cook. "We'll continue to evaluate and build up what we think Monday needs to be, but it's not that we're putting a snap count on it. It's just they are two really good football players, Michael Carter is a really good football player, and (we're) just trying to find a way to feature all of them along with the receivers and tight ends that we have. So, there is going to be enough to go around."
About to enter his third regular season with the Jets, Saleh likes the composition of his club that has an interesting mix of cagey veterans and spry young players.
"This is a cool group, man," Saleh said. "They are completely locked in and, again, we've got to get going. We've still got to prove it to ourselves every day. I think there is a mindset that I don't think any of these guys look at themselves in the mirror and say, 'I've arrived.' I think this is a group that knows that we've got to put in work. I think this is a group that knows that every day is just as important as the next and so I think this group is focused."
Saleh's message of putting in the work has resonated throughout the Jets locker room. Veteran CB D.J. Reed, who registered 12 PDs last season across from Sauce Gardner, emphasized the importance of every detail.
"I think you take it one day at a time," Reed said. "I think you focus on your internal, which is what drives you internally, and not really worrying about the external noise and voices. Because honestly, at the end of the day, it's a distraction if you're focused on trying to impress what people want you to do or you're looking at what people's expectations are. We have expectations for ourselves, and I feel like our expectations are higher than and can exceed anyone's expectations. For us, it's just about coming in here and taking advantage of every opportunity we have. When we're watching film, being 100%, deliberate and alert, going through walk-through and just being different from every other team. And you just do that by just focusing on the now and just attacking every day you get."
After a young team improved its win total by three games last season, the Jets traded for a future Hall of Fame QB in Aaron Rodgers, re-signed a foundational piece in DT Quinnen Williams and added Cook, a four-time Pro Bowler, this summer. They have pass rushers crawling everywhere after selecting Iowa State product Will McDonald IV in the first round and Jermaine Johnson, a first-round pick in April of 2022, looks ready for a huge jump. There are elite players on both sides of the ball and coaching continuity plus Douglas still has financial flexibility to acquire more later. Game week is finally here for a team that can't wait for liftoff.
"I look at as we have a small window when you have a team like this," Reed said. "When you have a great defense, when you have a Hall of Fame quarterback, when you have a well-built roster, you have to take advantage of this because these teams don't happen every year with cap space and with guys wanting to get paid, etc, etc. So, we really have to maximize this opportunity right now."
See the top photos of the Jets during Monday's practice at 1 Jets Drive.