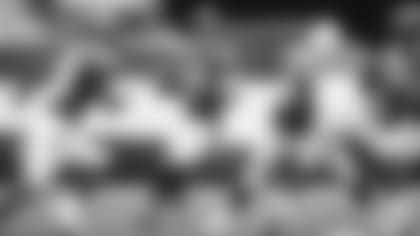 The Jets have reached the back half of October and are still searching for their first win. But if you do believe in omens, the Jets will have a good one on their side when matching up with the Dolphins (2-3) on Sunday at Hard Rock Stadium. Joe Flacco, who is making his second consecutive start at quarterback for the Green & White, has never lost to Miami.
If Flacco, 35, has real estate in South Florida, it would make sense because he owns the Fins. He has a 6-0 career mark against Miami and has connected on 72% of his passes for 1,518 yards with 10 TDs and 3 INTs, and posted a QB rating of 109.4.
"You are trying to jinx it," Flacco told ESPN New York's Rich Cimini when the long-time Jets writer reminded Flacco of his success against the Fins. "I don't know, they had a really good team my rookie year and we went down there and beat them twice. Some of the other games kind of all run together at this point. I've been fortunate to play on a lot of good teams and some that maybe weren't as good outcome-wise at the end of the year, but we still had some good teams and some good players that showed up to play on Sundays."
All of those wins came when Flacco was commanding the Baltimore Ravens' offense. Flacco, a first-round pick of the Ravens (No. 18 overall), referred to those two triumphs in the 2018 season, including a 27-9 win in the wild-card round. In that contest, Flacco completed a mere 9-of-23 passes for 135 yards. He became a playoff regular on an outstanding team that typically fielded an elite defense, participating in the playoffs in six of his first seven NFL seasons.
But now in his 13th NFL season, Flacco is hoping to guide the Jets to a win. Sam Darnold, who started the club's first four games, will miss his second consecutive game with a shoulder injury. Last week, Flacco made his first start since Week 8 of the 2019 season and had mixed results. He completed 18-of-33 passes for 195 yards with 1 TD in the Jets' 30-1o loss to the Cardinals as the offense struggled again in the red zone (1 of 3) and on the third down (4 of 13).
"I definitely think I'll be different, probably a little bit different state of mind come Sunday," Flacco said. "Definitely a lot of new feelings and things like that going through my head from Sunday, just because it was a little bit different for me. I put a lot of things out of my head as much as possible, but I think this week will be a little bit easier to relax and get into the flow of the game right away."
The Jets had 21 first downs against the Cards, but they averaged only 4.5 yards per play. They've had 12 plays of 20+ yards this season on offense and it's no coincidence they are averaging 15 points per game.
"You need to get some chunks here and there," Flacco said. "Right now, we are just going the long hard way. … It's a good sign to have a long drive because you know you're obviously doing a lot of little things right, but it's hard to do that consistently. And right now, that's what we're kind of forcing ourselves to do is just be so perfect. And as soon as one little thing gets messed up by us, or it goes wrong because there's a good defense, we're off the field."
Flacco knows he can count on Jamison Crowder, the slot target who is leading the NFL with 111.7 yards per game. And the Jets could be getting additional help on the outside with the expected return of Breshad Perriman and the possible return of Vyncint Smith, a pair of big targets who both possess sub-4.4 speed.
"I think Breshad over the last couple years has gained a lot of confidence and he's been playing really well when he's healthy and he's rolling," said Flacco, a teammate of Perriman with Baltimore in 2016-17. "You know he's a tough guy to cover. He can bring a lot of explosive plays to your offense, so it'll be exciting to kind of get him back out there."
After a 17-game stint with the Jets, RB Le'Veon Bell's run in the offensive backfield came to an end earlier this week. The Jets released Bell on Tuesday and will turn to a committee approach headlined by Frank Gore and rookie La'Mical Perine, a fourth-round pick out of Florida who had 17 touches entering Week 6.
"When you're in the league for 13 years, you have to learn how not to get too emotionally into some of these things because there are a lot of different things that can happen throughout the course of the season," Flacco said. "I think we have a really good room, obviously in Frank, a Hall of Fame veteran, [and] a really good young kid coming up. I think those guys are going to step up and play really well."
With Darnold, 23, on the mend and Tua Tagovailoa, 22, the No. 5 overall pick in last April's draft, biding his time in Miami, Flacco and Ryan Fitzpatrick will lead the Jets and the Dolphins. And somebody's "O" has to go this weekend because the Jets will either pick up their first victory of 2020 or Flacco's dominance over the Fins will come to an end.